The following are personal learning notes for reference only
1. What percentage of the parameters are less for three 3*3 convolutions in VGG than for one 7*7 convolution?(Assuming both input and output channels are C)
1. For three 33 convolution layers, the parameter is 333C^2;
For a 77 convolution layer, the parameter is 7 * 7C^2.
The parameter reduction from the former is (49-27)/49 = 44.89%
2. What is the difference between VGG-16 and VGG-19?
1. On the network structure, VGG-19 adds a 3*3 convolution layer to the 3rd, 4th and 5th blocks of VGG-16, respectively.
2. Under the same training and testing conditions, the accuracy of VGG-19 is slightly higher than that of VGG-16.
3. What are your inspirations after reading this paper?
1. Enlightenment on the experimental methods of the paper
In the process of experimentation, to train an optimal model, it is not possible to get one at a time. Contrast experiments are needed.
As shown in Table3-Table6 in VGG, we compare the results of experiments with several models, analyze the association and hidden information, and then adjust the network.
Effective models are gradually left behind in the experiment to further analyze the factors affecting accuracy
2. Use multi-model fusion to improve accuracy
3. Using three 33 convolution cores instead of one 77 convolution core reduces many parameters
4. Find a picture from the Internet, execute vgg16, observe the category of top5 output, and take a screenshot of the output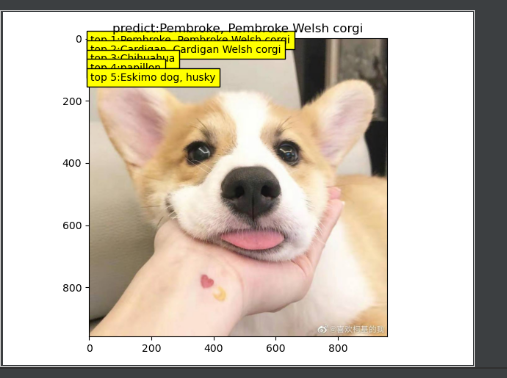 -

-

-

-

-

-

-

-

-

-

-

-

-

-

-

-

-

-

-

-

-

-

-

-

-

-

-

-

-

-

-

-

-

-

-

-

-

-

-

-

-

-

-

-

-

-

-

-

-

-

-

-

-

-

-

-

-

-

-

-

-

-

-

-


        Layer 

(

type

)

               Output Shape         Param 

#




==

==

==

==

==

==

==

==

==

==

==

==

==

==

==

==

==

==

==

==

==

==

==

==

==

==

==

==

==

==

==

==


            Conv2d

-

1

         

[

-

1

,

 

64

,

 

224

,

 

224

]

           

1

,

792


              ReLU

-

2

         

[

-

1

,

 

64

,

 

224

,

 

224

]

               

0


            Conv2d

-

3

         

[

-

1

,

 

64

,

 

224

,

 

224

]

          

36

,

928


              ReLU

-

4

         

[

-

1

,

 

64

,

 

224

,

 

224

]

               

0


         MaxPool2d

-

5

         

[

-

1

,

 

64

,

 

112

,

 

112

]

               

0


            Conv2d

-

6

        

[

-

1

,

 

128

,

 

112

,

 

112

]

          

73

,

856


              ReLU

-

7

        

[

-

1

,

 

128

,

 

112

,

 

112

]

               

0


            Conv2d

-

8

        

[

-

1

,

 

128

,

 

112

,

 

112

]

         

147

,

584


              ReLU

-

9

        

[

-

1

,

 

128

,

 

112

,

 

112

]

               

0


        MaxPool2d

-

10

          

[

-

1

,

 

128

,

 

56

,

 

56

]

               

0


           Conv2d

-

11

          

[

-

1

,

 

256

,

 

56

,

 

56

]

         

295

,

168


             ReLU

-

12

          

[

-

1

,

 

256

,

 

56

,

 

56

]

               

0


           Conv2d

-

13

          

[

-

1

,

 

256

,

 

56

,

 

56

]

         

590

,

080


             ReLU

-

14

          

[

-

1

,

 

256

,

 

56

,

 

56

]

               

0


           Conv2d

-

15

          

[

-

1

,

 

256

,

 

56

,

 

56

]

         

590

,

080


             ReLU

-

16

          

[

-

1

,

 

256

,

 

56

,

 

56

]

               

0


        MaxPool2d

-

17

          

[

-

1

,

 

256

,

 

28

,

 

28

]

               

0


           Conv2d

-

18

          

[

-

1

,

 

512

,

 

28

,

 

28

]

       

1

,

180

,

160


             ReLU

-

19

          

[

-

1

,

 

512

,

 

28

,

 

28

]

               

0


           Conv2d

-

20

          

[

-

1

,

 

512

,

 

28

,

 

28

]

       

2

,

359

,

808


             ReLU

-

21

          

[

-

1

,

 

512

,

 

28

,

 

28

]

               

0


           Conv2d

-

22

          

[

-

1

,

 

512

,

 

28

,

 

28

]

       

2

,

359

,

808


             ReLU

-

23

          

[

-

1

,

 

512

,

 

28

,

 

28

]

               

0


        MaxPool2d

-

24

          

[

-

1

,

 

512

,

 

14

,

 

14

]

               

0


           Conv2d

-

25

          

[

-

1

,

 

512

,

 

14

,

 

14

]

       

2

,

359

,

808


             ReLU

-

26

          

[

-

1

,

 

512

,

 

14

,

 

14

]

               

0


           Conv2d

-

27

          

[

-

1

,

 

512

,

 

14

,

 

14

]

       

2

,

359

,

808


             ReLU

-

28

          

[

-

1

,

 

512

,

 

14

,

 

14

]

               

0


           Conv2d

-

29

          

[

-

1

,

 

512

,

 

14

,

 

14

]

       

2

,

359

,

808


             ReLU

-

30

          

[

-

1

,

 

512

,

 

14

,

 

14

]

               

0


        MaxPool2d

-

31

            

[

-

1

,

 

512

,

 

7

,

 

7

]

               

0


AdaptiveAvgPool2d

-

32

            

[

-

1

,

 

512

,

 

7

,

 

7

]

               

0


           Linear

-

33

                 

[

-

1

,

 

4096

]

     

102

,

764

,

544


             ReLU

-

34

                 

[

-

1

,

 

4096

]

               

0


          Dropout

-

35

                 

[

-

1

,

 

4096

]

               

0


           Linear

-

36

                 

[

-

1

,

 

4096

]

      

16

,

781

,

312


             ReLU

-

37

                 

[

-

1

,

 

4096

]

               

0


          Dropout

-

38

                 

[

-

1

,

 

4096

]

               

0


           Linear

-

39

                 

[

-

1

,

 

1000

]

       

4

,

097

,

000




==

==

==

==

==

==

==

==

==

==

==

==

==

==

==

==

==

==

==

==

==

==

==

==

==

==

==

==

==

==

==

==


Total params

:

 

138

,

357

,

544


Trainable params

:

 

138

,

357

,

544


Non

-

trainable params

:

 

0




-

-

-

-

-

-

-

-

-

-

-

-

-

-

-

-

-

-

-

-

-

-

-

-

-

-

-

-

-

-

-

-

-

-

-

-

-

-

-

-

-

-

-

-

-

-

-

-

-

-

-

-

-

-

-

-

-

-

-

-

-

-

-

-


Input size 

(

MB

)

:

 

0.57


Forward

/

backward 

pass

 size 

(

MB

)

:

 

218.78


Params size 

(

MB

)

:

 

527.79


Estimated Total Size 

(

MB

)

:

 

747.15




-

-

-

-

-

-

-

-

-

-

-

-

-

-

-

-

-

-

-

-

-

-

-

-

-

-

-

-

-

-

-

-

-

-

-

-

-

-

-

-

-

-

-

-

-

-

-

-

-

-

-

-

-

-

-

-

-

-

-

-

-

-

-

-


img

:

 Little Koki

.

jpg 

is

:

 Pembroke

,

 Pembroke Welsh corgi


263

 n02113023 Dog

,

 Pembroke

,

 Pembroke Welsh corgi
time consuming

:

0.

90s