windows cracking tutorial
First, download the jar package: (the cloud disk link can't be sent, you pay attention to gzh "grey wolf learn java" and reply to idea to get it) put it in the appropriate folder (the same level directory of idea is preferred) for management;
Enter Disk C - > User - > user name - > intellijidea2019.2 or. IntelliJIdea2019.3 - > config - > idea64.exe.vmoptions file, add the - javaagent:jar path and jar package name at the end of the file, for example - javaagent: D: \ idea \ jetbraincrack.jar, and then close the open file; (if there is no vmoptions file on Disk C, try to install / bin in the root directory of the directory Try it under the folder)
Open IDEA, because it is not activated at this time, the activation verification window will pop up, select Activation Code, and you will be asked to fill in the key below and fill in the key below
A82DEE284F-eyJsaWNlbnNlSWQiOiJBODJERUUyODRGIiwibGljZW5zZWVOYW1lIjoiaHR0cHM6Ly96aGlsZS5pbyIsImFzc2lnbmVlTmFtZSI6IiIsImFzc2lnbmVlRW1haWwiOiIiLCJsaWNlbnNlUmVzdHJpY3Rpb24iOiJVbmxpbWl0ZWQgbGljZW5zZSB0aWxsIGVuZCBvZiB0aGUgY2VudHVyeS4iLCJjaGVja0NvbmN1cnJlbnRVc2UiOmZhbHNlLCJwcm9kdWN0cyI6W3siY29kZSI6IklJIiwicGFpZFVwVG8iOiIyMDg5LTA3LTA3In0seyJjb2RlIjoiUlMwIiwicGFpZFVwVG8iOiIyMDg5LTA3LTA3In0seyJjb2RlIjoiV1MiLCJwYWlkVXBUbyI6IjIwODktMDctMDcifSx7ImNvZGUiOiJSRCIsInBhaWRVcFRvIjoiMjA4OS0wNy0wNyJ9LHsiY29kZSI6IlJDIiwicGFpZFVwVG8iOiIyMDg5LTA3LTA3In0seyJjb2RlIjoiREMiLCJwYWlkVXBUbyI6IjIwODktMDctMDcifSx7ImNvZGUiOiJEQiIsInBhaWRVcFRvIjoiMjA4OS0wNy0wNyJ9LHsiY29kZSI6IlJNIiwicGFpZFVwVG8iOiIyMDg5LTA3LTA3In0seyJjb2RlIjoiRE0iLCJwYWlkVXBUbyI6IjIwODktMDctMDcifSx7ImNvZGUiOiJBQyIsInBhaWRVcFRvIjoiMjA4OS0wNy0wNyJ9LHsiY29kZSI6IkRQTiIsInBhaWRVcFRvIjoiMjA4OS0wNy0wNyJ9LHsiY29kZSI6IkdPIiwicGFpZFVwVG8iOiIyMDg5LTA3LTA3In0seyJjb2RlIjoiUFMiLCJwYWlkVXBUbyI6IjIwODktMDctMDcifSx7ImNvZGUiOiJDTCIsInBhaWRVcFRvIjoiMjA4OS0wNy0wNyJ9LHsiY29kZSI6IlBDIiwicGFpZFVwVG8iOiIyMDg5LTA3LTA3In0seyJjb2RlIjoiUlNVIiwicGFpZFVwVG8iOiIyMDg5LTA3LTA3In1dLCJoYXNoIjoiODkwNzA3MC8wIiwiZ3JhY2VQZXJpb2REYXlzIjowLCJhdXRvUHJvbG9uZ2F0ZWQiOmZhbHNlLCJpc0F1dG9Qcm9sb25nYXRlZCI6ZmFsc2V9-5epo90Xs7KIIBb8ckoxnB/AZQ8Ev7rFrNqwFhBAsQYsQyhvqf1FcYdmlecFWJBHSWZU9b41kvsN4bwAHT5PiznOTmfvGv1MuOzMO0VOXZlc+edepemgpt+t3GUHvfGtzWFYeKeyCk+CLA9BqUzHRTgl2uBoIMNqh5izlDmejIwUHLl39QOyzHiTYNehnVN7GW5+QUeimTr/koVUgK8xofu59Tv8rcdiwIXwTo71LcU2z2P+T3R81fwKkt34evy7kRch4NIQUQUno//Pl3V0rInm3B2oFq9YBygPUdBUbdH/KHROyohZRD8SaZJO6kUT0BNvtDPKF4mCT1saWM38jkw==-MIIElTCCAn2gAwIBAgIBCTANBgkqhkiG9w0BAQsFADAYMRYwFAYDVQQDDA1KZXRQcm9maWxlIENBMB4XDTE4MTEwMTEyMjk0NloXDTIwMTEwMjEyMjk0NlowaDELMAkGA1UEBhMCQ1oxDjAMBgNVBAgMBU51c2xlMQ8wDQYDVQQHDAZQcmFndWUxGTAXBgNVBAoMEEpldEJyYWlucyBzLnIuby4xHTAbBgNVBAMMFHByb2QzeS1mcm9tLTIwMTgxMTAxMIIBIjANBgkqhkiG9w0BAQEFAAOCAQ8AMIIBCgKCAQEA5ndaik1GD0nyTdqkZgURQZGW+RGxCdBITPXIwpjhhaD0SXGa4XSZBEBoiPdY6XV6pOfUJeyfi9dXsY4MmT0D+sKoST3rSw96xaf9FXPvOjn4prMTdj3Ji3CyQrGWeQU2nzYqFrp1QYNLAbaViHRKuJrYHI6GCvqCbJe0LQ8qqUiVMA9wG/PQwScpNmTF9Kp2Iej+Z5OUxF33zzm+vg/nYV31HLF7fJUAplI/1nM+ZG8K+AXWgYKChtknl3sW9PCQa3a3imPL9GVToUNxc0wcuTil8mqveWcSQCHYxsIaUajWLpFzoO2AhK4mfYBSStAqEjoXRTuj17mo8Q6M2SHOcwIDAQABo4GZMIGWMAkGA1UdEwQCMAAwHQYDVR0OBBYEFGEpG9oZGcfLMGNBkY7SgHiMGgTcMEgGA1UdIwRBMD+AFKOetkhnQhI2Qb1t4Lm0oFKLl/GzoRykGjAYMRYwFAYDVQQDDA1KZXRQcm9maWxlIENBggkA0myxg7KDeeEwEwYDVR0lBAwwCgYIKwYBBQUHAwEwCwYDVR0PBAQDAgWgMA0GCSqGSIb3DQEBCwUAA4ICAQBonMu8oa3vmNAa4RQP8gPGlX3SQaA3WCRUAj6Zrlk8AesKV1YSkh5D2l+yUk6njysgzfr1bIR5xF8eup5xXc4/G7NtVYRSMvrd6rfQcHOyK5UFJLm+8utmyMIDrZOzLQuTsT8NxFpbCVCfV5wNRu4rChrCuArYVGaKbmp9ymkw1PU6+HoO5i2wU3ikTmRv8IRjrlSStyNzXpnPTwt7bja19ousk56r40SmlmC04GdDHErr0ei2UbjUua5kw71Qn9g02tL9fERI2sSRjQrvPbn9INwRWl5+k05mlKekbtbu2ev2woJFZK4WEXAd/GaAdeZZdumv8T2idDFL7cAirJwcrbfpawPeXr52oKTPnXfi0l5+g9Gnt/wfiXCrPElX6ycTR6iL3GC2VR4jTz6YatT4Ntz59/THOT7NJQhr6AyLkhhJCdkzE2cob/KouVp4ivV7Q3Fc6HX7eepHAAF/DpxwgOrg9smX6coXLgfp0b1RU2u/tUNID04rpNxTMueTtrT8WSskqvaJd3RH8r7cnRj6Y2hltkja82HlpDURDxDTRvv+krbwMr26SB/40BjpMUrDRCeKuiBahC0DCoU/4+ze1l94wVUhdkCfL0GpJrMSCDEK+XEurU18Hb7WT+ThXbkdl6VpFdHsRvqAnhR2g4b+Qzgidmuky5NUZVfEaZqV/g==
Check whether to activate: IDEA interface - > help - > about, generally activation expires in 2089
There is feedback that after the modification according to the configuration of the tutorial, the registration code will still be invalid. Here is another way to teach you: activate by selecting the "License Server" mode, and fill in the following link: (of course, the previous steps are still necessary)
http://jetbrains-license-server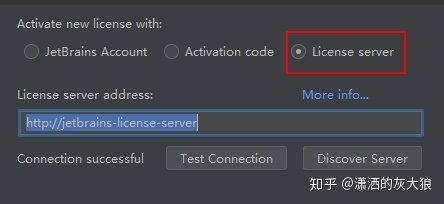 MAC system activation tutorial
In fact, the principle is the same. It's OK to make the path of Java agent in vmoptions file. However, due to the particularity of mac, the corresponding directory is not easy to find.
The name of the corresponding file to be modified in mac is idea.vmoptions. Some people are smart enough to find the idea.vmoptions file under the installation directory of idea. For example, my corresponding directory is:
/Applications/IntelliJ IDEA.app/Contents/bin/idea.vmoptions
After the modification, it is still useless.
Here I want to correct that what the idea starts to read is not the file in the / bin directory above, but another file. This file is under a hidden folder called "/ Library". The path on my computer is:
/Users/username/Library/Preferences/IntelliJIdea2019.3/idea.vmoptions
The way to enter the hidden folder is as follows:
1. Open finder
2. Click "go" in the menu bar above, and at the same time press and hold the "option" button, the hidden "resource pool" will appear
3. Go to the directory above and find idea.vmoptions
The later modification process is the same as that of windows.
The results are as follows: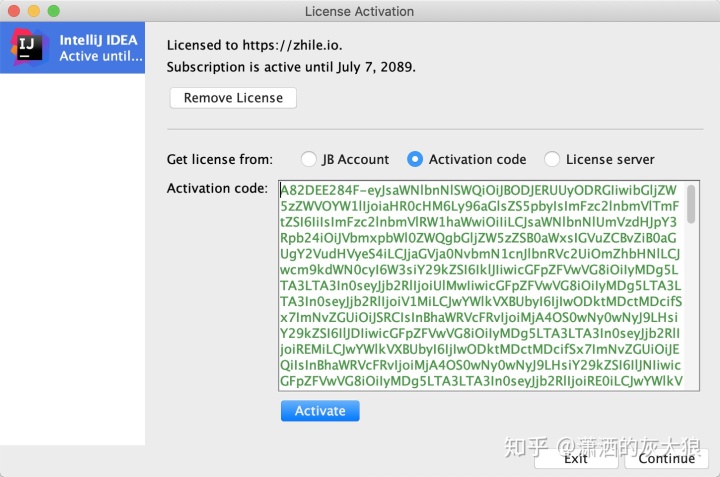 Activation is successful. It can be used in 2089
To be helpful to? Thank you for your old fellow's support.
If you think I write well, clear and understandable, you can pay attention to my official account "grey wolf learning java", and share the original technical articles regularly, and encourage him.