Hello, everyone. I saw such a short video on the subway today. I wonder if I can write a similar class roll call program. At the end of the year, of course, this program can also be used for lucky draw.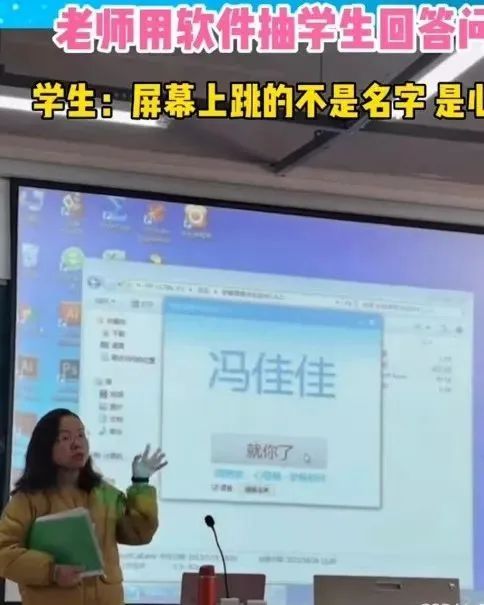 Now let's start practice! Like to remember to like, collect and pay attention.
preparation
1,Tkinter
Tkinter is the built-in TK GUI tool set of Python. TK is the native GUI Library of Tcl language. As a graphic design tool of python, its Tcl language environment has been completely embedded in the Python interpreter.
2,PIL
PIL library is a third-party library of Python language, which needs to be installed through pip tool. The method of installing the PIL library is as follows. Note that the name of the installation library is pilot.
PIL library supports image storage, display and processing. It can process almost all image formats, and can complete the operations of image scaling, clipping, superposition and adding lines, images and text to images.
Use image and imagetk in PIL to process and introduce a picture. You can use the following code to install it.
pip install pillow

1. Start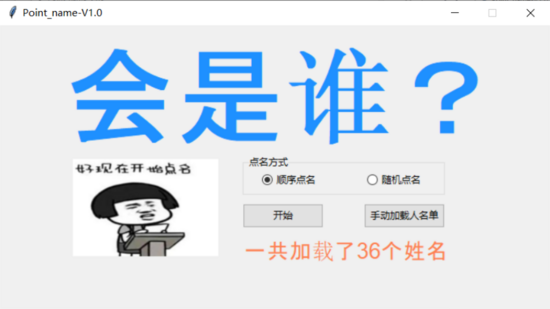 After double clicking to open, enter the main interface of the software, and all functions are clear at a glance. The program will automatically identify the names in the software directory Txt, import the name inside.
2. Start roll call - sequential roll call

Uploading... Re upload. After canceling the sequence of roll call, click start, and the person name will begin to appear on the screen. The probability of person name appearance is the same. Click stop, the person name will stop rolling, and the roll call is over.
3. Start roll call - random roll call

Uploading... Re upload, cancel clicking random roll call, the program will conduct random roll call, and the probability of person name occurrence is random.
4. Manually load person list

Uploading... You can manually select the person list if you cancel uploading again, provided that the person list format is txt and each name occupies one line.
5. Start roll call - sequential roll call - Pyqt5 version

Uploading... Re uploading and canceling. We also wrote a version with Pyqt5. The implementation logic is the same as that of TK version. The interface may be better, but the file is much larger. You can get it yourself in the summary later.
1. Overall realization idea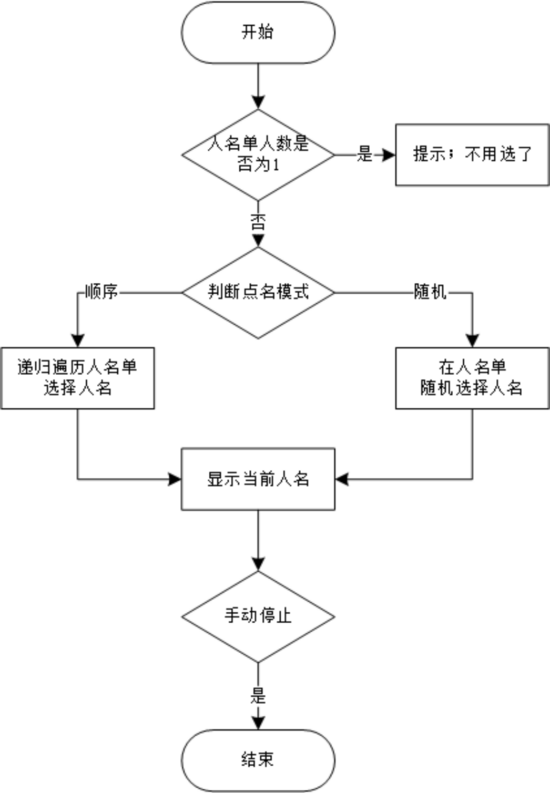 2. Roll call implementation ideas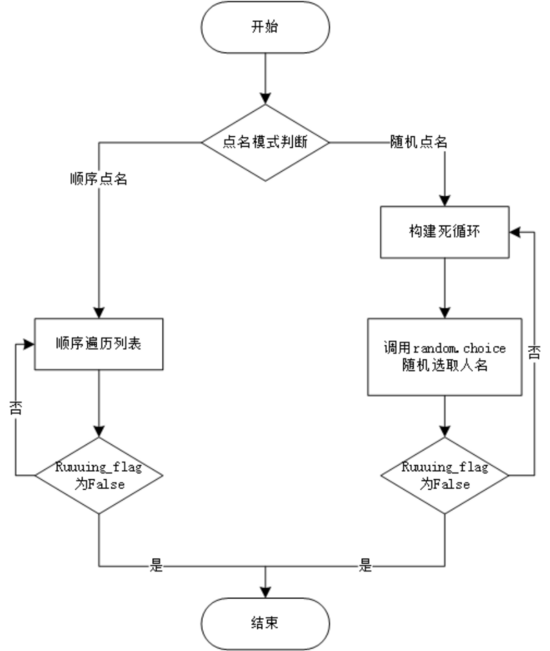 point_names-GUI.py (main program GUI)
from base64 import b64decode

from PIL import Image,ImageTk

from tkinter import messagebox

from tkinter.filedialog import askopenfilename

imgs=['./point_name.png']

        self.running_flag=False #Start flag

        self.time_span=0.05 #Name display interval

        self.root.title('Point_name-V1.0')

        left = (self.root.winfo_screenwidth() - width) / 2

        top = (self.root.winfo_screenheight() - height) / 2

        self.root.geometry("%dx%d+%d+%d" % (width, height, left, top))

        self.root.resizable(0,0)

        self.create_widget()

        self.set_widget()

        self.place_widget()

        self.root.mainloop()

    def create_widget(self):

        self.label_show_name_var=StringVar()

        self.label_show_name=ttk.Label(self.root,textvariable=self.label_show_name_var,font=('Arial', 100,"bold"),foreground = '#1E90FF')

        self.btn_start=ttk.Button(self.root,text="start",)

        self.btn_load_names=ttk.Button(self.root,text="Manually load person list",)

        self.lf1=ttk.LabelFrame(self.root,text="Roll call method")

        self.radioBtn_var=IntVar()

        self.radioBtn_var.set(1)

        self.radioBtn_sequence=ttk.Radiobutton(self.lf1,text="Sequential roll call",variable=self.radioBtn_var, value=1)

        self.radioBtn_random=ttk.Radiobutton(self.lf1,text="Random roll call",variable=self.radioBtn_var, value=2)

        self.label_show_name_num=ttk.Label(self.root,font=('Arial', 20),foreground = '#FF7F50')

        paned = PanedWindow(self.root)

        img_=b'iVBORw0KGgoAAAANSUhEUgAAALQAAAB4CAIAAADUhU+qAAAACXBIWXMAAAsTAAALEwEAmpwYAAAgAElEQVR4nO196XNbx5Vvd9+LfSU2EgD3fRNJbZRkyVJseY9sP7scOy+ZTCqpVKXm8/wp+TA1X2amJjWZSXksy1Ik27IsWXIsRpK1kCIpLgBJkAAXrMQO3K3fh0O0rkBKkaONzvOJSwGBu3b/+uznNKaUoh/oyZB6bDHG2+RSD0/807mNmth7ql/ymbz8EyL2LvdbeH/bC245bk+UHgQOSik8x8O85P0eHb5XX4pSSghRX7Pq+nAwxhi+3zwWlFJFURBC7Dr3G68tv3/0UYYnZC91P8IYw3NSSjmO23zTv/okbPTYaz7NlXMXHJtf+AHTw05hn9kxVaewi9AKVX2z+Sz1uQ+4KaVUlmVUGTIGvs2j/52e/6/SZlg/4PqKokiSVPWQD39TgFfVuD1tzgGvUbWg2dPcj7b8VT09DAQIIVmWy+VyqVSSZVl9I/bmWq1Wr9drNJrNs7uZtbAVqYbFlkey5atmXewF1S/7kC+oZlqMC255uqIoq6urgUDAYrF0dnaaTKa/OqRVd69aP9/p9Eene8CBNjE6NUNDD4FZOB5YKLsmQkiW5ZWVlatXrwaDQUIIx3HqSVUURRAEo9F44MCBoaEhQgicxR4JnoHN8fr6+urqqt1udzqdWq2WUipJEntCRVFEUczn85IkAWthj8Fux54NY2w0Gu12u06ne/DbMSjALWRZhj8VRaliCer5m5mZ+dd//Ve/3/9P//RPzc3NVQdseRYDgSzLmUwmm80aDAan0wnDAndnQ/RXRdujEM+eEu4hy3I4HI7H436/v6amplQqlUolk8lEKZ2enl5eXsYYGwwGs9lss9lqamqsVqtWqyWEwKip51uNelEU79y58/vf/x5j/NZbbxmNRhhZODifz1+7du369euyLPf29vI8rx6pbDa7vLxMKYX5SyQSly5dmp2dfemllw4ePGg2m3meRwhxHMdmLhwOX7p0aXV1tVgsptPpQqFgNBoNBgOs8mKxuL6+Til1OBw2m627u/vIkSN1dXVMLWCkZoFAsiwrilIqlTDGOp1uM7tSLwmMsc1mk2X55s2bx48fr6+v12g0Wq3W4/F0dHTU1NSoeR4ATpZleLxIJBIMBgOBQKlU2r9//0svvWSxWAAW6oX6RAXNXc4BA5fNZr/44ouRkZF33323r69vZGQklUodPXrU4/Gk0+lIJCIIQrlczmazuVzOaDQODg4+99xzdXV1VaKkimRZTqfTsVisr6/v9ddft9vtsDgURVEUJZlMrq6ufv3118B11FeQJGlpaenMmTPz8/OCIFBKE4nE3NwcAGJubs5ut1utVrPZ3NnZ2dTUBG9hNBqbmppsNlsikRgbGwsEAkePHu3r6wM2Mz8//5e//CWfz//iF78YGhpyu916vf5hBgseeGlp6ZtvvnE4HLt373Y4HADKKimJKuzKZDLZbLY7d+4EAgGEEMZYFMVoNOrxeOx2OzA2WCSCIMzPz09PTweDweXl5WKxuLKyMj8/73K53G53Z2dnS0uLRqPhOE69eJ4o3eUc8D6ZTObOnTuxWIzn+Xw+/5e//GVxcbG/v7+5ufm5557bvXu3LMuFQiGVSt25c+fEiRNXrlyRZfntt9+G8QUeK4pisVhkiphWq5VlGd4KY8zzPMgRjUbD8zxw5mw2azQanU4nzLpau6yrq3v++efNZvPJkydnZ2e7urqOHTtmMpkY4HieN5lMdrvd5/NptVqO4zwej9PpxBgvLS19++23Kysr+/bte/PNNzUajaIoo6OjIyMjq6urO3fuPHz4MDCMzeIcljKsVIbjRCJx4sSJTz755NVXX+3t7c3lcuVyGdgSE6aCICwtLYVCIUqpKIrALVwu1wsvvACMhOM4h8Oh5p3AsD/77LNwOOxyufbs2ePz+QghoVAI+Mfvfve7/v7+5557rrOz02KxMGXriSqnPCAdYC7Lci6XW19fNxqNNptNr9frdLpcLlcoFBBCWq1Wq9UqimK1Wl0ulyAIBoNBPXzwrIqiBAKB8+fPz8zMZDIZs9m8c+fOgwcPMsgXCoXx8fErV6709/cfOnTIYDCUSqVUKlVTUwMciC0+JuaLxeLY2FipVHr33XePHTvW2dnJ83ypVCqXy8BpCSE1NTUg4EDnKBQKiqKsr68XCgVRFDOZTDKZBJgmEolisSgIwurqajAY1Gg0NpvNbrczjg0THAqF1tbWmpuba2pqQqHQ+vp6bW3t3Nzc2bNnLRbL0NCQ0WgcGxv78ssv3W73Sy+91NTUBCtEEITLly9/+OGH5XLZ7XZnMhmtVjs2NpbNZmEAGxsbDx8+3NPTA4ISyO12/+hHPyoUCjU1NbW1tSB5BwcHs9lsMBgcGRn54osvbt68+bOf/ezgwYNwIwYOtRbyRMCRTqeTyeTk5GQkEiGEzMzMxGKxVCqVSqVGR0fr6+ubm5vhmSRJCoVCJ0+eDAQChw8f3rVrF8wKu6jH4xkcHIxGo+fPn3e73Tt37uQ4Tq/XG41GhFCxWLx9+/bFixeNRuP+/fthtqLRqN1ud7vdbJnCjdbW1r766quPP/74xo0b3d3dr7/++t69e3U6nSzLqVRqbGzM7/f39PQwQwAoHA5fvnw5n8+vra0tLCwkk8k///nPqVSK4zhBEBYXFyORSC6X+/TTTycnJ81m8969e/fv328wGBgo8/n8119/febMmXfeeWdoaOjMmTMTExNHjhwJhULhcPjIkSM6nW5hYQGMkdOnTweDwX/8x3/s6ekBvlgqlRKJRGtr67vvvutyuUADK5fL4XD42rVrH330UTabra2tBfYAg2az2Twez6VLl65cudLU1NTa2gpqUKFQkCRJo9EQQnK5XC6Xo/c6jZ4c/9iQXuVy+dtvvx0ZGZmcnJyfn8cYnzp1ymazTU1NJZPJa9euNTY2ulwurVYrimIul5uamrp165Yoih6PBzCOVBaNyWRqaGjw+/0cx1mt1vr6ep7nLRZLR0cHsNNYLAbcGCEkiuLKykoymRwYGHA6neyFZVkOhULHjx+/fPmyLMtOp1NRlHw+v7CwUCwWC4XCyMjIf//3fw8PD7///vs+nw+ku8FgQAjpdDqbzYYxFgTBZrOtra3BrxqNRpIkURTNZjPG+PDhw3v37gWRBBKHUppMJuPx+MrKytTU1NTU1Llz55aWlm7dujU/P6/VakG3jUQi//Vf/wUMRpIkr9e7vLwcDAYbGhosFgvHcUajked5h8MBAgLmT5KkfD7v8/ng4Gg0Wltby8AB4+Z0Om/evHnu3Dmj0djf328ymRYXF2OxGMdx+/btO3ToUF9fH7wjw/ETtFbg0hzHeb3ePXv21NbWZrNZhND777/f3Nx8+vTpCxcuvP7660ePHrVarblc7saNG3Nzc7lczuFwzM3N/fGPf4zH4729vRazubGxsaW1VafTLS8vf/HFF+fPn0+lUqIonjhx4sUXX9y9e/evf/1rWFgrKyvZbHZmZubrr7/u7+/3eDwvv/zy0NAQQAd4gCAIIyMjExMTP/rRj3p7ez/88MNAILC8vLywsDA9PV0qlSKRSCQS+fOf/5zP510uV0tLy8svv9zS0sLzvM/nq62tlWUZpiGZTB4+fPiNN97gOE5RlOnp6YmJiVAo1NbW1tPTo9FoUEXnyGazN2/evHz5cjabDYfDAFCHw6HRaNLpdDQaffnll996662VlZVgMGgymfx+v9fr1ev1oih2dXUZDAYQnbW1tVarNZ1OF4tFeCNCiEajsVgsra2tPp9vbW1tbW0NTDOEkCRJYJ9LkuRwOBBCV65cuXLlik6nczqd3d3dnZ2dHo8nHo+HQiFYaVVOqScCDkCuXq/v7e3t6OhYXFycnp5eXFx0Op1tbW319fUwauA5YI4HvV4/MDDgcrlu3rz5xRdfpNNpn88nK0ptXZ1Op9PpdPX19fX19aCIDQwM+P1+i8Xi9/sppePj4+l0OpPJnD59emxs7J//+Z93797d3d1tMBhAJINmp9Vqd+3a1dLS0tbWJsuy3W4XBEFRlAMHDuzevbtcLo+Pj6+urur1+h07dvT09FgsFqvVyngsaLvlcjkajWq1WqfTqdfreZ6XJAmGFXQg8LigilNLr9d3d3e73W6tVjs1NVUqlfx+//vvvw+8ze/3HzhwwO/3nz59enJy0u12cxyXyWSA+c3MzLz99tsdHR2gQNTW1q6urk5MTGg0GngYEJe5XA6U/XQ6DUquLMtra2tff/317OysJEnRaHRtbc1msx0+fNjj8Wg0Gp1Ox/P8zMzM7du329rafvvb3/b09IC7CD2Er/JvBwf8H8YYzCS3293a2jo+Pj41NQUTJknSyMjI8vJya2vr0aNHDx06dOjQIUmSFEUJhUKlUmlxcfGNN97o6+szGo1ms5njOJfLNTw8nEqlzp8/jxCCN4/FYsPDw0ajMRqNFotFl8uVyWRisVg+n9dqtSaTSRTFeDyOMXY6nSBie3t7YdoSiQSYJ6IoNjY22mw2hJDFYjl37lwqlWppaXnxxRfV3g4QEKIoRiKRZDJps9lcLhcbSkmSACJgPdGKFxVcOK2tra2traIoUkq9Xm8mk4lGo7Is63S6+fn5CxcutLW1LS8v5/P5I0eOvPbaazqdbnFx8d/+7d+mp6Z6enqampp4nrfZbH6//9q1a7/73e98Ph9wFPDUlUqlmZkZvV7PfKxge3d1dbW2tlqt1tu3bweDQYvF8qtf/aqrq4t5X0ZGRkZHR6enp9PpNHoqTvS7sRUYHbPZ/MILL4RCoa+//jqVSoXD4UQiMTU11dra2tLSYjabdTodQkir1ebz+cXFxUQiMTg42N3dDYYGjPXCwsJnn3129epVm83mcDhyuZzVarXZbDqdDlZ8oVDYv39/Op0eHR0dHR11OBxmsxlu6vF4PvjgA7/fD7CAaeN53mq18jwP2lkqlcpkMrlczm63B4PB27dvd3R06HQ6kNnMaQE+pba2tra2Nr/fD5NBCNHr9bW1tcDhgOEjlebPpIDL5err67t69eqlS5f0ej3GOB6PX79+nRnboiiy4zUaDa/RwEV4nvd4PPv37x8ZGZmfn9fpdJ2dnT6fb3Jykuf5Xbt2uVwuq9Xa1NSEKoaGxWIZGBhACImiGAwGZVnmeR6sRWYDAv8ol8ssovT0wAEPodVqu7q6fvOb39y4cSOVSpXL5ebm5ra2tnfeeae5uVmn08G6RAjl8/loNLpjx47XXnvN7/fDkMFg2e12cI04nU63222z2YxGI3D1VCpls9kOHDjw4osvajSazz//PBKJnDhxQqvV5nK5UqnU1dWl1WoRQozhcxyn1Wqbm5v7+vpAHl+/fv3y5csgm9xu9/T09H/8x39oNJru7u6XXnoJTAAAwd69e9va2sxmM3AOWKYtLS2//e1vFUVpb28H5lFlCsIE19XVffDBBy+99BLP8xqNZmVlJRAI+Hy+zs7O69evLywsRKPRU6dOgaXtcDiGhobggoSQcrm8vLyczWYHBgZEUVxaWgLlZmVlZXh42O12g2UuSdLg4CAgj90aWFoul7t9+3Y8HgcuKEnSxMRENpt1u92wPmExM0/Jk8DKFuIKpGC5XBYEIRaLTU5OwigbjUZYyvBAYK2BEFEHJsClI0kSyHUWRmHWaTKZlCTJZrNxHJdOp7PZLPBbSilo+GBWqC8IZyWTSavV6nQ6V1dXo9EoOwtECULIarV6vV6j0QgPCTIePqvHDiQ93O4Bg8scX7gSWCiXy2zmkslkuVxmV9BoNCaTyWKxaDQaWZbHxsb+5V/+ZWFh4Ze//GU2m71y5cquXbs4jvvqq6/27dt38ODB27dvX7p0ac+ePT/72c9cLhd7BlmWZ2dnjx8/HggETCaT2l9MKbXZbLt27Tp48CCoO+zVnh44mL0AKBEEAdimeo5hyOBINkDsdOb7U487VUUQUEWNYj4chBAsdzhXrYqzuYSzwOKAU+AzXAQcssAJ4GrqkNiWY4e3CoLTewMl7AnxvdFz9qv6+nBAqVT67LPP/vCHPwCLslqt4XAYjNvl5eWamprGxkZJku7cuWM2m7u7u3U6HZzIUJjNZiF8zV4KdGcQNGzASYX+lpl/CHqQoqtUiL2/2nfJFCV1yK1qTNXfqFcAUs0BG2L1WVjlcq1awVX/0k1BjaoDHgCOhyf1i7Mvq8wE9rlcLs/Ozs7MzNTV1Q0NDRkMBoYqptAghGRZhqVFK/kSjE+wF1G/kXpA2E2rFKbHSw8Ch3pG1V+y2CB9aA//lpfa+oE2gWzLc7dcLpsB97iGTP0M92Mz6i/B1Qbakppxbj5LPfFMxn3Xx3sG4NiS1GP0hESd+l7qsXvIZ3uij/QwpA7Zsye/H6S+0ws+Zfpb/CdbrqHHSA9eo3/1yydNm6d28wGM56kF5ZZH/r2B4wf6/4SeQWnCD/R9oR/AsUHPREJtc/q+gqPKfVIlvDdbffCBmQNVJiK61y79AR9A32Odo8rEpSrfHVJ5ZTZbVZvdKux79YcfILLtOMfDeETAfwqJ4DDNUIUgiqIgCMVisVgslstliADQihcfYvTg/4YCGfhGq9VCEBi8q1gVimOO2vs90oONke87bS9wqN2I6i+RSgQACEqlUiaTgbKORCKRSCQgfSadTq+vr2ezWcCHOr0b0m00Go3BYDAYDOCHtlgsDofD6XTW1tZ6vV6IDxuNRl2F1EKKPdKWjGd7mqOPQk8JHA92T7HVqV6m8CeUE0I6ezqdTqVSsVgsEoksLS0tLS2trq6ur69nMplCoVAul0VRZC5/BrIqxQJjzBI7gDcAaFgljtPpdDqdDofD5/M1NTXV1dXV1NRARA1ydqquqX6FB7zj95Geks7xAHCoMcE+KIpSKBTi8fja2losFltZWYlEIgsLC8vLy7FYjOWUU1U1Inj0WX0AhC02ByPQvbIAq8rX1F9SSvV6PYNIW1ubz+fz+Xxer9flcpnNZnXuJ7syk0ePe/yeDT1VcKhNBnQvhwCCFNxwODw9PT09PT07Ozs/Px+Px1OpVKFQgEgVURGsZnUsF67MYrZqnXTjhVUEDIYF9xmCIRYNUgkSA3Q6XU1NjdfrbWxs7Orq6u/vb29v93q9ZrOZZRcwjvJ3o4g8PXAoqtJntfUIOkQ6nQ6Hw5OTk2NjY1NTUwsLC6lUCtJhGFcA5VGtNqpVAfahittvZhub52wzdwFxxnI8gbWABqPVat1ud3Nzc39//759+3bs2FFXVwcYxZWslKpHQt9PoDw9cFTpE7BS8/l8JBIZHx+/du3a+Pj4/Px8IpEolUqQGgi1YjqdDvI2UCWfgyXvsOVOt4pvoXs51t13fuA8MX1CnWUCP0mSJAhCPp8XRRFjbDAYIOX4hRdeGBgYqK2t1ev17PEYPa4xfPr0VMEBUwhmJ5SUXbhw4csvv5yamorH46Iogj1JCAHzknEIlrZTBYItwbHZ0vlO78jAodY6Ie2KQRwUZKi3g9T2Xbt2vfbaa/v37/f7/ZA8jCqZLo9tEJ86PVlwMCFCVbXFhUIhEAhcunTp3Llzo6OjkKEPyU46nQ6K59RzXGXKbvmnOhWoKi0NfXdwMN2Iqlxq6rxDpq9AiVepVNJoNF6vd+/evceOHTt48KDL5WL55eh7q4U8EXCohQjod2zBhcPhkZGRs2fPfvvtt5DyD3UZzE+lXm14q0wf9ZfsJ7Wl+thfZzNhVRolyJpyuSxJksFgaG5uPnLkyEsvvQQ1WizrVi1lvi8QebLggBUGg5jJZMbHxz/55JNz585FIhFJkiBRCmqZ2IlVrHh7ggNIEARo1AESUBAEMKksFkt/f/+rr7766quvtre3QzKYmh3+AI67imexWITi9LNnz46OjhYKBY1GA5UKLD2dqhL71GYn2kqdfLbgYEIHmhKUSiVCiMFg0Gg0oiiC257n+dra2ueee+7999/fs2cPy6f//x0c6mRxSmkikbhx48aJEycuXLgQjUYppcAt9Hq9eo6pKomySqw84F6bwfF43+V+N6WUAqahy1mpVEIIsYZmxWIRHHRGo3FoaOi999578cUXvV4vyyetUkG2LVYev/scxg70jFgsdurUqQ8//HBiYiKXy0FxB0uuZ1pkleyomvKHoac8vozVsYgdRPtkWTYYDFarVZblfD5fKBT+8pe/rK+vJxKJt99+u7GxEfDB3mubmzOPHxysBHRlZeX48eO///3vg8EgpdRgMAAyUKV6Rb2A2JD9DWbnUyZ2U1YwAWVU0HwMIQRCk+O4UqmUy+UmJibS6XQul3v//ffb29s3e1S3LT2SWKnyMQApilIulxcWFj7++OM//vGP8/PzCCGdTmc0GmFcmBC53zX/hiG7H7a2tCEfiyTdzN4KhQK0MISGegaDAWOczWbT6TSl1O/3Hzt27B/+4R/6+vqYC7XKNHv0p3q89KicQ236w6yXy+XJyckTJ06cOHEiHA5Dzara6EcPHIinOUZqlGx53y1hVIVvdgx0o4MuWeBXhc6qoJKvra2dPHmS47hf/epXLS0tIF+2ISDU9HjECq2QKIqzs7P/+Z//eebMmbW1NRgdNTLUjOF+K/gxDtnDM4ktj/xOPAbKFaEDR6lUAvag0WiAZRYKhVgsdvLkSZ1O9/Of/7y1tRWaxmxnemw6h6IogiBMT0//+7//+6lTp+LxOIgSQAbop5tnffPoP97FdL+lDx/IVs1xthRMm90tainGGCewSVmWS6VSsViEZDOMMSQN5XK5lZWVjz/+2GAw/OQnP2lqagIHz7blH48EDqa0g3CJRCKnTp06c+bM6uoqJFwB81RU/aDVA6HW7DbzWKwK3iKVuQu/stlSSzR6b8pWVXWy+grs4iwtSG1+q/UJdU6y+gGgtJUlkbDvIW9IURTweQB7IITodDrIWgqHwx999JHJZHrvvffq6uoQQuoclG0FlEcCB630d1YUJZPJXLx48fTp06urq0zP4DgOrJItPRZVFp2iakKt9nRVfUaq9cqOB+bEDoaZZuwKnNzMV0tVyR/M88ZyRNiUq+OxVJX2wS4OYX12QUAJM26FCoEuAmMCCSvBYPDkyZN1dXWvvvqqyWRij01UHS62Az2qWGGtRaanp8+ePTs9Pa0oitFohN4SbL63tFCqEMMmHgLiwJPRvQFS9UXUmIPUYvhJFEXIF2SzDudCEEer1UJ7KnDEwQej0WixWEAIwjE6nQ4yidit4ToQSYEOaevr68lkcmVlJRQKLS0t5XI5xkUEQWAZQ8A84MmBf0CzzT/84Q9ut3t4eJg16nwsZtRjpMdjrayvr1++fPn27dvgOQZRCksZ/bWEcjWrB8UFOvCZTCboRclOhw+Q38VycNgHSAsCcWaz2aCVCnSftVqtFoulpqampqbGZrPZbDaLxQI4AI8cBISBZzDxB09VFROhlZQfEBylUimdTl+7du1//ud/rl27Bq3G4DFQpUGZWt7xPA/dTguFwuXLlyGlubOzk3W/2T5sAz06ODDGoigGAoGRkZFYLAbjwlL30AM9xFXSnR0DXYFY5hjwbZALMMQABYhoAJeyWCwWi8Vut7tcLq/X63Q6AQeAMMg1BxyoY7/qLA3gWMwdDqwCDgaWAy+FEFKzE5vN5nQ6i8ViQ0PD6Ogo9OyGmQYPOrsXrURkQMqAC/XChQvd3d0ul8vn8z3iRDwJegycI5fLQR5XsViEQGvVnikPfym1CwFIkiRIFgTpjjE2GAw1NTUej6erq6u7u9vj8bjd7pqaGnA9GY1G6KGD7i0gqEIqmzB2QKlUCoVC4+PjgUAgGo2CkII2h06ns6Ghoampqba21m63w+4LbIkTQiwWS21trcFggBauEBxgUpXeu5cN/Ar3XVtb++yzz7q7u6HP3bbSRtFjMWXj8fjo6GgqlWJyvapDzWZt436k5gqCIMBYI4TMZrPT6YT874aGhtbW1vr6+traWuh3zhgVVrX/YrcGUVWVekhUbR5JZZ+NeDweCATGx8ej0SjEWqHZvslkKpfLmUwGmBCIITWCrVarz+ez2WyxWEwdFiCqhmPMGgIC/lEqlWZnZ69cudLT09PQ0LCtZAp6LAppNBoNBoOgKNBNDtOHvI7adoCLQD8/6ALe1NTU1NTU0NDgcrlMJhPYQcCcSaVXK0MDaKOwu8P6+jqrcykWi9Bltb6+3uFwWCwWZmnD7bxeb3t7e6lUcrvdlFLYFaWlpcXj8cCuLiBi1KYysBCLxdLc3Oz1eufn55nxglTsSm3MQ6tdjuN0Op0oiolE4vLly7t37/Z4PCy/cJvQo5qy5XJ5aWlpbW1NqfTtgwbW35VDssJGUPdqampefPHF9957r7u7GzpVgvHCxh0OYxCBPWwymUwikYjFYlDwEg6Hw+Hw8vLy+vo6tF8G7Q+6RXd3dzc2NkJ7U8AHx3E2m62hoaG+vt7pdDY1NXk8HuiuCZov7NehromCzxqNxu/3t7a2jo6OZjKZcrnMSuXg7Uilby7bywyCc4CPQCBw9erVXbt21dXVPTyXfQr0qE6wUqkUjUYLhQKllOd5sAbBFv1Ol6IqQghBg+y+vr7GxkY1c1Yzc1Rp/5hKpRYXF8fHx8fGxoLBYCqVAqiB0wnylh0OB8i7WCxWLBYjkcjq6urw8HBXV5fVagUDlRAC/f8zmQwhpFgsjo6Owr5VhULBYrH09PT09vbW1dVBUA0eAFhXbW0tdLTNZDKgezEFlj28WpGCOl7IeMpkMhMTE+Fw2O12/11xDsj/A1bJfFlqww/d3z1c5bFACCmKwnqWJ5NJwBy618BjAw0FL6urq9evX7958+bS0pIkST6fDwpJ3G437JEgCAKq8HbYeAXCpMDD4WnBwjQajYqiQN9mqJoJBAJjY2OFQgG60zO7CfgWqL0AaKvVOjQ0NDQ0tLi4mM1mwUhR7wvGlF+w5sAMhlXEcdzq6mokEunv72cZk9uBHoNCqlYGlcruRg+pbahxA8MECmaxWAyHw4+bDmAAACAASURBVLFYrK2tbXMyOlY5v3U6ncfj2bFjx/DwsNPptNvtFosFskZgu7FoNBqLxZLJJM/zDQ0NdXV1ICMcDgdIDbgsiAz43NvbK4piNpsFC1lRlNra2paWlpaWFtgmZ/Pz8Dzf2Ng4PDx869at8fFxCLyBAcJgATIRNGLwkjEMQThGXXX36PPy6PSo4NBoNE6n02Qy5XI5Zimo7YWHpCpZC/vWLC0t7dy5E3oCk03dTuFGBoOhs7Ozs7MTDovH41NTU0tLSysrK6B8JJNJ2FSqra0NqukdDgdAgakCaovXZDLBhialUsnr9Q4ODoL1pNfroZya2WKsagGopqZm//79d+7ciUQi6+vrYO8w4QJcFlpCsNazvb29O3bskGUZNGUwgraPZHlUnUOj0djtdlhMyr2bj37XSzGFA3xTsNFfOp02mUxM28f3JvXQiq8sm82y3fPi8Ti40aDuobOzs62trbW1tbGxsa6uDnYJVRs4SOX/oJUdbhVFgZxhthkb+CewqsiKldqCSNXpdE1NTa+++urq6ipsnAip1LhSqw2YAGvf4XDU1tYeO3bs9ddfhxvV1NSw9svbhB4DOGADUbaemNqhZrz3O33zASBZoOEC7CkGvdXZYmUYAmYOOzFEo9Hl5WVZlsEtZrFYEEKyLJvN5traWpAFMLvqqlfGMNQ6rxoBoiiur6+D9QGTCs5WtVLM3gVjbDQaoUl8S0vLuXPn5ubmQDk1Go0+n89ut9tsNnDVNDY2NjQ0gJwCeUrvrQXfDvSoCinP801NTX19faFQKJfLiaJYlfSFHk4hZfONK1m75XJ5ampqdHQURhBVJo/VziOEoK4aNtPo6OiAdBsQ4eBuh1/ZogeWDu0b4CzmzlK7IpgUUxSlVCqBthiLxQwGQ0dHR09PD3T1V88lU8PNZvPg4KDP5+vp6Tl16tTly5cLhUJ7e/sHH3ywe/duu90OHn3wpDH3HcPl348pC2D3+/1Hjx4dHx+/c+cOOKDYxjNUFVTb8vQtP4PtANsfXb9+fXBw0G63M+WOSXr2AKDDovv3g2PMP5FILC0tZTIZm80GW64wqIEXlW16yjayBINTq9Wurq4uLS1NTEwkk8nh4WG2RwdAhMWfIeLj9/tfe+21pqYmh8Nx9uzZ1dXVmZmZvXv3+v1+9aMSVQ4p2Wpz62dLj8Faga2HgXlAr3/GtNG9+TJVJ96Pu4CaWS6Xi8Xi9evXe3t7YVMw9SJD944sAwSqjDuYJOzKoiguLi5evnw5GAy2tLQMDg6CWpNOp+PxeDQajUajsMcPJAmDFSMIgt1uHxoa6unpaW1thT1HYbdHOIb5ZvCm9AOTyTQ4OAj29oULF06fPq3X6yGBlPEbgMK2EiVqelSdAyEEfu7BwUHYoRjcf1XsUT15D3llrVYLNsvIyAjbN/p+wV41k4Bv1BMgSVI6nZ6ZmQmFQrAd6eeff14ulxOJxPLycjweTyQS0FgBdBqTyQQNfTo6Orq7u3t7exsbGwEKzFBX+/vZjaruDvvPvfXWW2tra998881nn33W2dlZV1fHEnyqjLvtwzOAHgM4EEJGo3FgYKC1tTUcDoP6xlRIvFUO2MNcGZxF+Xx+ampqbGwMHESKajP3KgJkqJtqMI4FHLu+vt7r9fI8H4/HJyYmoIOUIAgcx9ntdo/HA8kfZrPZ7XZDTAd0W9BAYWstfO/WPgwijKvB90pl6yeTyTQwMDA8PDw+Ph4Khc6dO7dr167u7u7Nhsl2QwZ6LIE3UDLa29v3798/NTW1trZWLBbBxFcHWTavjypuXGU7wAbY4J6/fft2JBKxWq0PyNimlRw++FMdnoX4qtVqBWulpaWlr68vnU5DphZ02qCUQpC9XC5DDRLstCWKIjQd9Pl87e3tPp8PfN7qBFX1C7I7Ap4IITabDRhGPB6fn58PBAItLS1MEX7E8X+i9BiSfeCDy+U6fPhwIBD49NNP8/k82HVsBDf3blNzZlqJ5dJKihetJGlyHFcul2dmZkZHR/1+v8vlesCYqsV/1WdoOYoqsTpI1Ein02CGLC8vg8IBmT6SJEGoL5vNwrbTsizDnn6vvPLKwMBATU3NZlaxJVBQRUWFBLBisZjL5cDhsd0M1830GMBBCIHl1dvb+/bbby8sLFy/fr1YLMJkQIUgeAhALjCUABTAnBNFERyIsOUi7PSMENLr9ZDk91e1FrWLAr6hqrgMqaQHw5+ZTGZ2dvbSpUtXr16NRqMIIbvdXldX5/f7YY9tqDQJBoOLi4uwB2w6nQbllKpiBezWVWhg6EQIgT0M7wVenKo2JNuWHtWUhQ+ksv/evn37Pvjgg3w+Pzc3JwgC2LTgckCV+VMqu8SBAgg5eZAhDJ5NCGe73W6/39/Z2dnV1dXb29vb22uz2dhwq+/LiAVHtnSvMZYjCMLc3NyHH354+vTpRCIB0XnAXzwehwZUoihCb1OolNdoND6fb8+ePXv37rXb7YAGdVxty2HBGINBPjk5CUn5fr+/oaFhGyZ9bUmPqpCqzUVCiMvl+vGPf6zT6T799NObN2+m02nw9hgMBo7jCoUCqAXAFZj+CLoecAiXywWuw7a2tpaWFr/fX1NTYzKZmHuAblXfUcVUqjChni24aTabBd0I8Ap7i0IOOoRnQTOFDHVQMuBXyKq/nzeCYRdXtvGen5//9NNPv/zyy1QqVVtbu3///ra2NrZv4f3gtU3oUftzqKU7fCNJUjabnZub++KLLz7//PPZ2VlFUQYHBx0Ox8zMzPLyMlQIQjhmZWVlfX0dIdTQ0PDiiy/u378fIiA1NTVGo5H1gqrSatFDZ2nTe/MUYUpkWQ6Hw9euXRsbG4vH4z6f7+DBg01NTYBg5rhU36JcLufzeZ7nISy3uZmkWpcCEQmtzz755JNPP/10aWnJZrMdO3bsl7/8ZU9PD/OusutsT3oM4Kj6hgWZ0ul0MBj89ttvY7HYgQMHGhoaIpFIPB43m80Oh8NgMAiC8Pnnn//v//4vbKj5xhtv/PznP+/r6wMHVJXFWCWkH5Itq8FBVWVtIM7C4fDMzEw+n2cpg+BoJ5XSJsgRL5VKOp0OcsRramogN4xuCp9C9ii0+wGH2/nz52/cuJFOp30+35tvvvnee+9B9Fi99+ffPvRPnh6btQJEK+EPQojb7XY4HP39/YIggFzo7Oxk7BREEuwwferUqVAo9OWXX0KGVVdXF6tYATsZbfIRqV1hVXfHqoQj9XMy5gHzqtPpzGazJEm3b9+em5tbX18HyxPqblgBgV6vr6+vHxgYgC3p1d01mMCilX7cqVRqYWHh1q1bIyMjt2/fjsVier3+wIEDP/7xj19++eX6+nomHL8XOscTafuENgU41OyXVvyMCCHYyvvChQvHjx8fHx83Go3Q0HPfvn1erxeSJ1hKxOYBvR9cqvxvbJUDV2MBd0EQotEopJpCx0tI4GPuf8hWaW5uhvRBk8kEBhet5KwLgpDL5RKJxOLi4uTk5OTkJGSTFAoFo9HY2tp65MiRI0eO9PT02O32zUbKNofI4weH2opjS3mzwkhVsdBMJvPtt99++OGH0Desra3thRdeOHTo0ODgIITHIPMblNmqkMrGa6jiupvzFKkqvsPAwXgMQgjsKRaUYVXXwEjg7qhibbG89ng8HgqFABPBYHBhYSGbzRoMBqipef75559//vmOjg6TycRuVxVm2uZi5Ym3mkSbPOhq84FNXrlcnpub+/LLL8+cOTMzM0Mp9Xq9AwMDO3bs6OjoaGxsdDqdZrOZlZXez1jAWzUmrGIq7AHY3KjRgO7NGgFmA2WPqVQKGnzNz88vLCwsLS1BaAYKYh0OR2Nj486dO4eGhjo6OhoaGiAlQI2Mbc4qquhJdTBWr+n7/cr+pRXPdyqVmpiYOH/+/OXLlxcWFiDn2+v11tfXd3V19fX1NTU1gWUL4n/z7ifk3r7jiqpyn5Hay07vLcMHWwN6vUGpdCqVgmrpcDi8urqaSCSy2Szs8ALZYn6/v729vbW1tb29HWxvKHcglYpLSCoAJfd+NvD2pGe5xxubIeZlB56/vr4eCARu3Lhx8eLF2dlZyG7HGIMXBCpE/H6/3W6vqakBPwSkdABW2Ae6KbgPsIDKEUgihIIX4Acw6+l0GjZ5gc/QpgfanAMXgQxhjUbjdrvb2tp6e3v9fj+ltFgsQtowHMxxHGzwU1dXNzAw4Ha7N3fu3ub0LMGhVvWRitkghCAkBsl/oVBoenp6YmIChDpMEttQAdwSsCjhXzA3ABywcNntYHbBGwtKMThDIfwGn6GpBvhqmYQilR3gEEJwa47jWHUupChADMViscAmLFB/cOfOHY/H89vf/nbv3r3qPRWexXh/Z3qWThimkTD9gMFFr9dDJ4XW1tbh4eFcLheLxUKhUCQSuXnz5qVLl9bX1x0Oh8PhKBQKEDZj9SlUlZ1FK+W7jJEw7xZYK6AuEEJYFQk8FVhJcC5jTtDPA1L9AAfgMzWbzWazGf6E+jyEUKFQuHjx4o0bN7RarcViYYLm+4IMtE02AFSjRP09rWzsCBsl+f3+8fHxW7duWSyWgYEB6DxfLBZnZ2dHR0enpqYKhQLHcZIkaTSa2tpa0CJ9Pl9/f7/NZgNWAb1ZMMaQwBwMBmGC19bWeJ5vaWlxuVyAA+jp4HA4oBaGlfBDsS5AhxWegDlDKoVMkiRNTk7evn27WCz29fVBHgna9rZrFW0LcDyA1Fbf6urqn/70p6tXr3Z3dz///PMulwsqPhoaGjo6Os6ePXv9+vVMJgNthP1+fz6fFwShrq5u3759bW1tVNVXCWMci8Ugd7BcLkNOcm9v769//es9e/ZArjlwL9aTmvk2mJ8DRA9W+fQYvrPZLJRner3e3bt322y2ZzmIfyttd3Cw4c5kMl999dWlS5ccDsfOnTs9Hg9WZfQ3NDT86Ec/0ul0t27dWltbg1o3pHJ7sPxCiPnhyj5LDocjEolAgQnkBTY0NMDqZ8YFraSboEpZHlXV1zCDGfJ3wN4JhULXr1/PZrNvvPFGT0/PtipyfHja1uBg4y7LcjAYvHTpUqFQOHDgQH19Pax1pHKHNzc3Q0D14sWLqVQqHo9DNRR4t9hhpFJzoNFoPB6Pw+EIh8OiKDocjvb2dqfTWeWQYOgkqpIqIBZTZWYRHJDP52/cuHHr1q2GhoZDhw45nU7mQ2PHo++DiNnW4GBe1PX19YsXL05NTTU3N3d1dbEERMbJwXT0+XyDg4Ng1IA7nFIKtS2QWQJ2LLQdy+fzKysrCCHoLEsphVBtU1OTz+dzuVzqMnms8sCyZ0OV7GW4O6udn5mZuXLliiRJR48e7e3thetsLjugf/dpgk+aGJe+evVquVxubGy02WwsFMf4B6tmA4OC53kwUBFCRqMRAiKlUimZTAaDwWAwCC14QKWAclyNRhOPx3//+9+Lojg0NPTuu+/u2LFDr9fDY+D7pEkzcZNIJMbHxycnJ6G54Pj4eGtr6759+0Db2NIX94BXZp+fLXq2OzgQQoVCATaYhdZb6m50qKJVQCeIQCBw586d2dlZSZJgXiHfDIoPZmZmIMBmNpu7uro6OzvBoQlObrjRjRs3Pvroo3PnzkFpgro+tsqri1SRmlQqdfbs2U8++WR5edlgMBQKhUwmk8vlwLOuzp+t8sxWvWlVVAHd3457OrTdwaEoCuR7xuPxzs5OyOyFsnfQJzKZTDgcXlxcXFhYWFxchEYrkMoFIdOlpaXPP/+8UCiApfrKK6/s3LkTTFamNED0ZH5+PhaLpdNpcHmBmKjywaB7VzYE4a5evXr8+PHFxcUDBw4cPHiwUCh88cUXU1NTf/7zn7u7u/1+P/N9YZWnX63WsBgCUqWgQgb/5tzHp0bbHRwIIUEQkslkqVSCPrIIoVKpBNH2UCi0uLgI5kZ9ff1zzz0XDodHR0dhcKHCMRwOZ7PZrq6uvXv3dnR01NXVabXaUCg0NTWVTqfz+TxCSJKkaDQ6NjZ28+bN9fV1v98/Ojoai8VAuaniFlV6Q6FQmJycvHXrlslkSiQSExMTkO+Ty+VGRkYEQQCFVB2AVV+TsSWQj8xHhzH2+/2wxRNrcwunP7VY7rYGB8wxtGex2WwrKytXrlyBbZHS6XQikYCKgSNHjjQ3N/f39+t0ujNnzgQCgWQyCXiClkOgh4LjAaZWlmVRFIrFUsWvipi3tLaullJlfPz2xMQ4pagKHBhjhDBGCCYKYyTLiiAIZrNFo+FnZmaDwTlCSLlc1uv1gA/WCERt9YBJrK7GJgQTwhFCeJ7DmMTjMZvN5vf71dh6ysxjW4MDRsTpdL7wwgsQ0IdNnzQaTVtb2/Dw8MDAABQaQSZwLBYDTzmgQal0+zMYDA0NDU6nU1EUQjDHcxhhhBAmGCOECYHWtaz/OcdxGl7DcYRSJMuKWp3cEC8UUXSP2qgoCpjAGyCgiFKKMFVPKlVltzB84LsVFUij0RCOSJJcLpWvXbsaDAahghBqXqpCRU+BtjU4aKXPQltbW39//8WLFyHB3+v1Hjx48Be/+AUrWockrrW1tUgkQgipra0FVdRisUCHrtra2t7eXowxQpSQu/mkhOMopRgjjnBsquDuGGNFoQwc96xaCrN/d6NT4E9qbwdVVWqpfWVqYxhXYj0YY4TultAV+ILBYBAEMZlMVvUreJq0rcGBKkMZj8eDwSB0lgJuDIEPFlGTZXlychJ2Ddu1a9f6+vrCwkJtbW1zc/PCwnwkEgmFFjweD89z5XKZIkUUhEKhIMkSx/EYphPRyrUJQjDfFFGkti8qHzawAn8TNmcYKYqCUUV7xRj4E8KVzDd0t5cm8AtJlqiCEIKJp4qiUIR4jisUCgsLC+VyiTX1/kGsbE2SJEUikcnJyVKpBKJBFMV0Og2CA2MMbV4+/vjjUqn0yiuvxOPxixcvms3mvr5evV4XCs2LohAIzApCWZKkTDYtioKiKPAnQhv6A7NHMCYcR0A0YMwpLCNJoQhRihClEkIIIUwVRVYU9XxVFBQM800wRymGKa1WXDDGGCmKguiGEgqCiGBMKS2WSoV83uv11tXVPcPyhe0ODkppuVyG7Bu9Xu/1ekVRTKVSsVgMKnIRQuDdamlpaW9vX11dPXv2bDQaHRgYsFqts7PTmcx6W1trY2OjxWqVJanGYaNUqYRF4BbsH4QwospdHwMhPCgXVFEUqiCKKFIolWFeRVGSJHHjOTfgpSCECCYVQBCMCMIbHaqAIVUOr9ySUsLBPhOYKgrhuPVUKrS4qOH5AweeGx4eBjfaD2IFoU2dPCBUEQ6H19fXoSZRkqRMJrO6uhqLxVpaWgghZrN5z549/f39U1NTZ8+enZuba2ho8Hg8c3PB2dkZq83a399X5/UihCgFua4gjHBlqpgRQQjBBCOKZGVjjjHmKuoFopRihBBGmCiKIsOf96ZNq/4HTIJyGBGKKELq4jaqABOiCOONPziOx4jIspxIJqNra3ab7bVXX33vJz9paWn523YZeCy07cBRRZIkQUJvNpuF6llKaTAYXF5eXlpaGhoagmQws9m8srL82Weffnv9W7PZ3NTUlMlkpqYmJVms9/uczhqCqUIVghDhEMwyAiAiShFGMEmYxxQzoYAJYmwEY0Spgja4DQW9kxCsggJCGBGEN2acUkQRIRzBXMW9JQGUKFUQRZg19CUbqglFaHllZXp6GiH042PH3nzzrabGRlZA9UwGfzuCA6sSgyVJisViS0tL4ISApFGz2by6ujoxMXH48GGPx6MoSjKZ+OqrC19/fQlj1NHRRqkcDM7m8/m29lavz8txBFGZIIqoQmTMIUwRoggpWKGIKmhjSjFCiBKYdISRJMtUpkwLlGWFUgVjgtDG7mCEq+zLoVCkILrh5yYEY46QDewoCkaKQmWCFIARABMjSilBGGPCKzLN54uRyPLMzIzdbjt27M033njD5/NpnvX2xNsRHIzAXZFIJBKJBEIIYOFyuZqamtbW1m7fvj09PW2xWERR/Oabb06ePJnJZro6u+x2+8zMTDQa9fv97R3tZrNZUWTME0QpRQqiGGGyISA21AyE4F9ZQQQRniiYlErlTCaTSWcLhYIsy2ybQKZdqrxYGCHEczxHePgTqq7NZrOW4xUqUyqTDbxt3An4AMdxBBFJVvL5wtzcwuzsbEtLywcffAB5TCxl9RkGb7c1OBBCoihCvIPneWAb0GU8nU7Pz89DnW2xWPz87Gdz88HmpmaPx7W4GJqbD9pttr7+HrfbRTAmBFOqIKRgTBFGFAGzAGRUTFKqKJRiRJBM05n09PRMMDhXLBb1Op1Wq6VgiSBEFYrxPT0LEUKIUow2SmYkUZQUubG+obevz+10IKpU1AuKMORRYwX8Y5yGUhqLxWdnA/F4cufOnT/96U+Hh4etVmuV7foDOLYgGO5isVgqlRBCuVxufn4eagVsNlsgEPjTn/70zTffKIqSy2fq632NTfWJZDw4F9Bo+Na2FqfTwXOEUgUAgVGlhzXzfW/MKcYYUYplpIglIZ5Mzs4Gp2dmi6ViV2fnzp27YPsVWZEhWR8jAvoppVQB5UKhiixIolAoFOfn5ycmJhKxeClfQDU1oFHA3FKFYowIxphwCGFRFKOxxMTklCzTV1555Z133unp6YFtoNQZAs8war/dwaFUmnkQQqAnH6TcQU2RJEnhcBgh1NRc39XViTGemwsKQrmrq7O5ucloNIBKSTCquBoowohihCmhCsWUEMwhiqksI0xlQVpeWRkfnwyFw7ls3ma3tba0Dg4MOBwOQRQ2HFwVJRVcm3hDq0VYUTBCgigYDIZQaEGWJUWRCSFoo8qSoooTjHAc5rhcLh9aikxNz5rNtrffefvNN9/yer2ssAU9a54BtK3BAasTahWhptnpdEKqZk1NjdPphO73Lpdr186dJpN+fHw8k0k3Nzd1dLTbbBZMsKLICLHIyIbSSDFCSAEdFFOMEUcRSqfTwbm56ZlALJFQKOU4TqPRarVaRJEoCJRSOI0qCqUywghTosiV3vgIE0ooohwiOo0GUySLElIoTwjCGCFF2WADFCGqyPL6enp6ZmZxKdLe3vl/f/aLvcP7nA7Xs8XBlrRNwVEVFqeV7mHQWAe+yeVymUxGq9U2Nze7PZ5QaH5lZc3hdHZ2dbhcLl7DI0oJ5hSKKHNsEYoxRQhTRBBCiqwQTBVFTqVSd6YmZgKBYrHkrfPqDIalcIQjHEGEYIwoQuwCoLZghMDfVfmSYIwQkRSJIxzBnCAIpWK5LAg8x8HJHMEUEYxQPJmanJqOxuIDAzv/8Ze/3Lt3v9FoAvBst7rq7QgOpp+rwwoQ2aKVjJhSqZRIJAqFAqR8ppLpYGDBoDd3tHe7nB5COEWhBBGCYHNQGWNQQqlMFSyDE4MQjiuVhLWV6PTUTGhxnnBcV3dPW3t7PJlcXlnZCLRiDiGMqCp+xupy0YaDAkMghSKiYII5QjiFIlGWJVnGPMdxPFUUGWNJkuLx2HQgIIjKj4/9nzffequ7q8dgMAG0cIWe6djfQ9sUHOwDrnSr5VR7wKJKGBayPSRJWgovra+v9/X1Njc16TZ62WIFKSALEMaUIoUqCFGCOQSBekxEQQqHw2Ojt6NrMYfD3tHZ2dzSYjSZ0pkMpYgQwm3kXhCEN1RQhO8J1qOKuAB9hiKk1Wo1Wi0qFSmihOM5jqcIEY4IghAORwKBgMVm+8kH7xw9+lJdnVer0YInfrvBAmjbgYNFt2mlah7Sx1lnC7zhadpom7SxA2F0FXZ/NZlMFMkbyp+MKFXAXKCUEKzBhIKFwnN8PleYnZ6dmZ7NZfL19f7OznZfvd9gMHIaXm/UEQ4jpGCCKzZJxXC911eJCYgphBSkIIow0uq0Or0OZZGsKETDcxqNJEnZXG5hYWFtba2jo+vd997dMzxstdp5jseYwBs//XF+GNp24ABiGQwcx0FhaiKRUEfPYfcMjPH6+rogCFqdtr293el0kY2tfilC4P/esCckScEEaQjPc5ws0Xg8FZgNzNyZVhTa0dHR0d5e47BptBpMEMdhjBRCKCF3NybbMElA/1BPJQROKIJbwhNjQkRJyubz8UTSaDQUCsVIJJJKpnbt3vPOO/9nx+CAwWAkhMMIE8IxcDxDZ9f9aNuBQ+1copTq9XqoSwuFQmwjBEopNPajlEI+cGtrS0NDA8/zkigKYlkUBUWREYRJKFVkWZQkEFdiWcyms3Pzc8vhsF5r2NHf39HeYbVawCmOEJUkQZQkQjDHV0quqYIqYRU1MpjyseEWJ1iW5bJQFkUxXywsLCxkczmtVsfxnM1m+/Fbb73x+utNjU0anQbjStjt3jTjpzfKD0fbDhxALO8BXNHqglU4AFcy/WHj6kgkUiwWMMGyLApCWRDKkiQi8GgoiqIgCjYLReWSIJSEXC6HqNLQ1dTS0mKzWTDaiLESgiRFliRBkiUNr+E2Evg21B10/wAY4TBFGINTDGOzxbJv/77DR15wOJ1GgwHaioAdjjBFSAFHyfbDwz20fcHB0KDO0sOqZDudTud0OsvlMiEknU4XiwVwN2GCNvySGLKBOUjZ5TieEGIySIVcTiiXFEXR63VanQ5hQpGCMMIE8jAwVagiyYpGBl0DUYoJ2UDmRt7HXQ6CN0QXUjBBBBGeIxyx2Wv27tv/5ptvQi3FhpKEQUWhCBFFAfm0rdGxTcHB1E8Q+SD1wY/O6k4tFktnZyeqTBomd1M0IDMDV0YfY9VO91Qp5rOiKCZTqbIkirJMCUaIbPjKMEIEs5CqJEkQc0NMHwWzZCN8BjAFryumWEF4I8LLcbxep9cbDBqtFt8bVsWIIIQJR7c5MtA2BAe+d+8SjuNcLldXV9f8/Dx0aLFarUzQgJVLKbi27s4BBmBQ8GdsXBacrRsxUYIpVURJguQfqigbwFIwVTCi7D/KQ2FBRaYQQiCDi6WEKJRyGJKE0AZQRNv3QQAAAltJREFUcWXDF4DjfV70CQ7iY6JtBw6kSuRHCMFOLr/5zW/a2to++uijYDAIO5WKogh7U8iyLMsSxxFWcAC5EhgBMu5axRCpoYokiUI2l5Oh9SBG4NveiI3Rjf8UiiAddKP3hiyrVEe04TlBaMNcIVihgBfgOkSW5YoI2n5GyEPTdgQHqvAP+GwwGPr6+sxm8+zsbLFYfPvttw8dOiRJUjKZhPaPqVQym81kstlcLifLcj6Xg5xTntfY7TWsaq3iPpEJRyD7AvQDBVG8oVXArQnHaTjMUVXquVrF2Ajxb5guuFLKokD8n+c1Gl4jy/SutlkxTL53tE3BgVSmHbdRWrLRVKOxsXHPnj1msxlav0FFa6lUgPYHYNyeOXPm+PHjDQ2NP/3p/21pacGVRmGUUlmRyuXihfPnT548KYiiJMuE48CbhTFRFAVRmSM84TRUoRhKCDjursigaMMEraSQYoIRogBnrFS2tpRkpNIzvqfsY/uCQ02KohSLxWw2C+WNqFJUyAqUFUVWqKzICrjFRkZGYH9oaPh0b48eqVgqrK6unjt3ThCFjU3/FBlTTAiliAIaONAzMKaKQplOitBdpRepvKWVD4QQjVajN+hz+QL6XqgVDyRekqVn/Qz3pQ2GQZWyUM7msphgm92m0fIKVWRZ3ghzKAj0BJD+iqIIolgWBKvNZnfUEI5QpFBEMMZwGCYYEwVhiRIZUyQpgkJFTBBVkILljZCKBhENorKMiCwjUZAo+MEQYlFacJZTvKFXQEiQEEJ4LTEYdbwWK1SQZFGSZXiXeznH9wM2/w8z07TIub6ABQAAAABJRU5ErkJggg=='

        the_img = b64decode(img_)#Hard code pictures to GUI

        paned.image = ImageTk.PhotoImage(data=the_img)

        self._img = Label(self.root, image=paned.image,background='black')

    def set_widget(self):

        default_name_="Who could it be?"

        self.label_show_name_var.set(default_name_)

        self.label_show_name_adjust(default_name_)

        self.btn_start.config(command=lambda :self.thread_it(self.start_point_name))

        self.btn_load_names.config(command=self.load_names)

        init_names=self.load_names_txt("./names.txt")

        self.root.protocol('WM_DELETE_WINDOW',self.quit_window)

        self.root.bind('<Escape>',self.quit_window)

            self.default_names=init_names   #1. The document exists but has no content. 2. The file does not exist

            self.label_show_name_num.config(text=f"A total of{len(self.default_names)}Names")

            self.btn_start.config(state=DISABLED)

            self.label_show_name_num.config(text=f"Please import the person list manually first!")

    def place_widget(self):

        self.lf1.place(x=300,y=160,width=250,height=50)

        self.radioBtn_sequence.place(x=20,y=0)

        self.radioBtn_random.place(x=150,y=0)

        self.btn_start.place(x=300,y=220,width=100,height=30)

        self.btn_load_names.place(x=450,y=220,width=100,height=30)

        self._img.place(x=90, y=165, height=120, width=180)

        self.label_show_name_num.place(x=300,y=260)

    def label_show_name_adjust(self,the_name):

        if len (the_name)==1:

            self.label_show_name.place(x=280, y=10)

        elif len(the_name) == 2:

            self.label_show_name.place(x=180, y=10)

        elif len(the_name) == 3:

            self.label_show_name.place(x=120, y=10)

        elif len(the_name) == 4:

            self.label_show_name.place(x=80, y=10)

            self.label_show_name.place(x=0, y=10)

    def start_point_name(self):

        if len(self.default_names)==1:

            messagebox.showinfo("Tips",'There's only one person on the list. Don't choose!')

            self.label_show_name_var.set(self.default_names[0])

            self.label_show_name_adjust(self.default_names[0])

        if self.btn_start["text"]=="start":

            self.btn_load_names.config(state=DISABLED)

            self.running_flag=True

            if isinstance(self.default_names,list):

                self.btn_start.config(text="Just you")

                if self.radioBtn_var.get()==1:

                    mode="sequence"

                elif self.radioBtn_var.get()==2:

                    mode="random"

                self.thread_it(self.point_name_begin(mode))

                messagebox.showwarning("warning","Please import the person list first!")

            self.running_flag=False

            self.btn_load_names.config(state=NORMAL)

            self.btn_start.config(text="start")

    def point_name_begin(self,mode):

        if mode == "sequence":

            if self.running_flag:

                self.always_ergodic()

        elif mode=="random":

                    if self.running_flag:

                        random_choice_name=random.choice(self.default_names)

                        self.label_show_name_var.set(random_choice_name)

                        self.label_show_name_adjust(random_choice_name)

                        time.sleep(self.time_span)

                    else:

                        break

    def always_ergodic(self):

        Keep walking through this list,Using an endless loop can cause thread blocking

        for i in self.default_names:

            if self.running_flag:

                self.label_show_name_var.set(i)

                self.label_show_name_adjust(i)

                time.sleep(self.time_span)

                if i==self.default_names[-1]:

                    self.always_ergodic()

    def load_names(self):

        filename = askopenfilename(

                filetypes = [('text file', '.TXT'), ],

                title = "Select a text file",

            initialdir="./"

            names=self.load_names_txt(filename)

                self.default_names=names

                no_Chinese_name_num=len([n for n in names if not self.load_name_check(n)])

                if no_Chinese_name_num==0:

                    messagebox.showwarning("Please note that",f'The import list has{no_Chinese_name_num}It's not a Chinese name')

                self.label_show_name_num.config(text=f"A total of{len(self.default_names)}Names")

                default_name_ = "Who could it be?"

                self.label_show_name_var.set(default_name_)

                self.label_show_name_adjust(default_name_)

                self.btn_start.config(state=NORMAL)

                messagebox.showwarning("warning","Import failed, please check!")

    def load_names_txt(self,txt_file):

            with open(txt_file,'r',encoding="utf-8")as f:

                names=[name.strip() for name in f.readlines()]

                if len(names)==0:

                    return False

                    return names

    def load_name_check(self,name):

        regex = r'[\u4e00-\u9fa5]+'

        if re.match(regex,name):

    def thread_it(self,func,*args):

        t=threading.Thread(target=func,args=args)

        t.setDaemon(True)

    def quit_window(self,*args):

        ret=messagebox.askyesno('sign out','Are you sure you want to exit?')

            self.root.destroy()

if __name__ == '__main__':

Tkinter has developed a roll call program for class this time. This program can be used for roll call and lucky draw... The code is less than 200 lines. The program is simple and practical. It mainly has the following six highlights:
1. Two modes: sequential roll call and random roll call
2. Automatic identification list
3. Support manual import of person list
4. Import verification of person list
5. Automatic correction of person name display position
6. Display up to five large characters