Last article r329 simulation The network is simulated on the simulator. Now when you apply to the development board, you have the opportunity to test it.
Raw materials required in this paper
r329 development board
sd card
sd card reader
usb cable of typec
A windows computer
A linux computer
Overview of development board: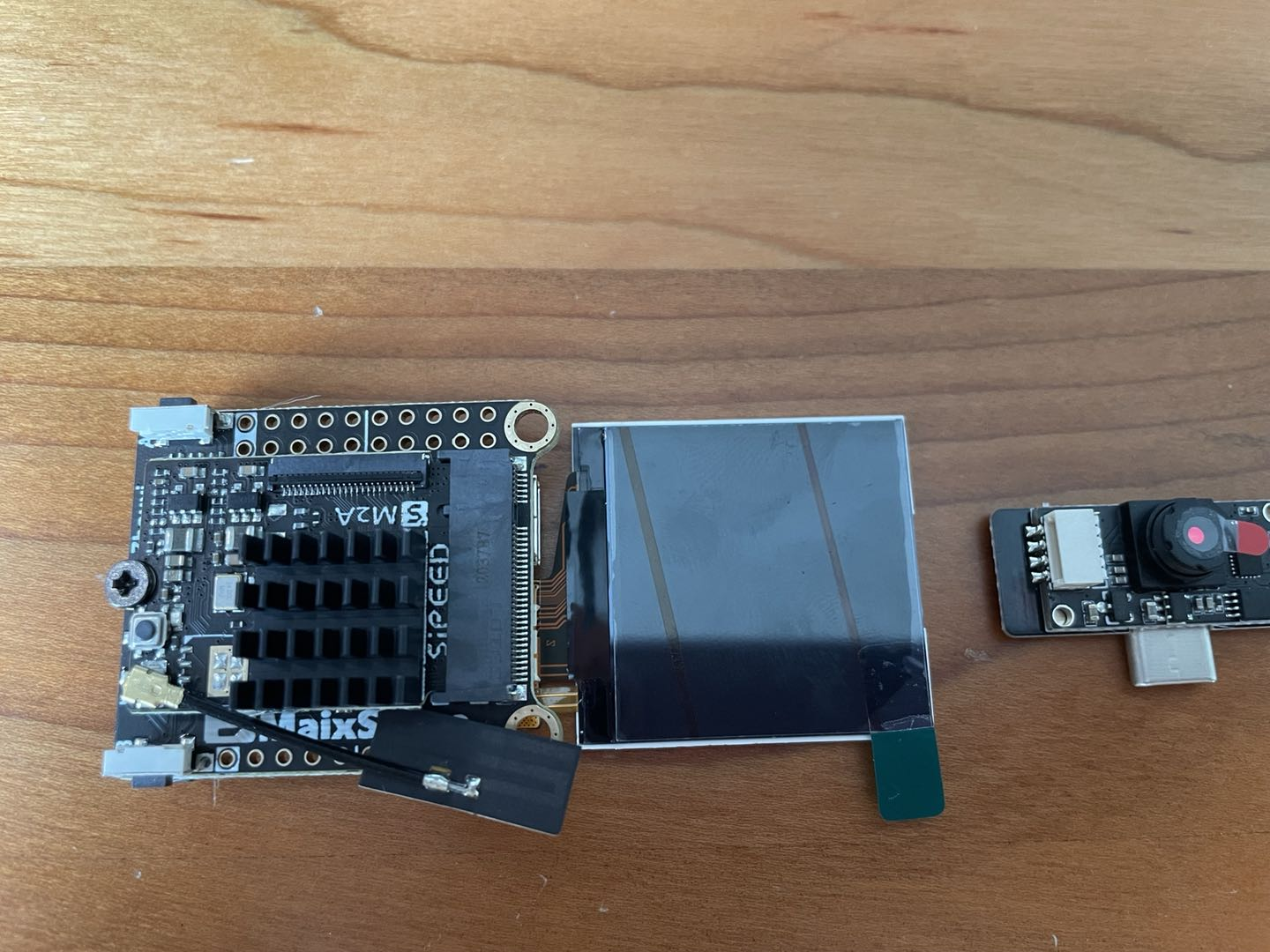 Including motherboard, screen and usb camera, compact Mini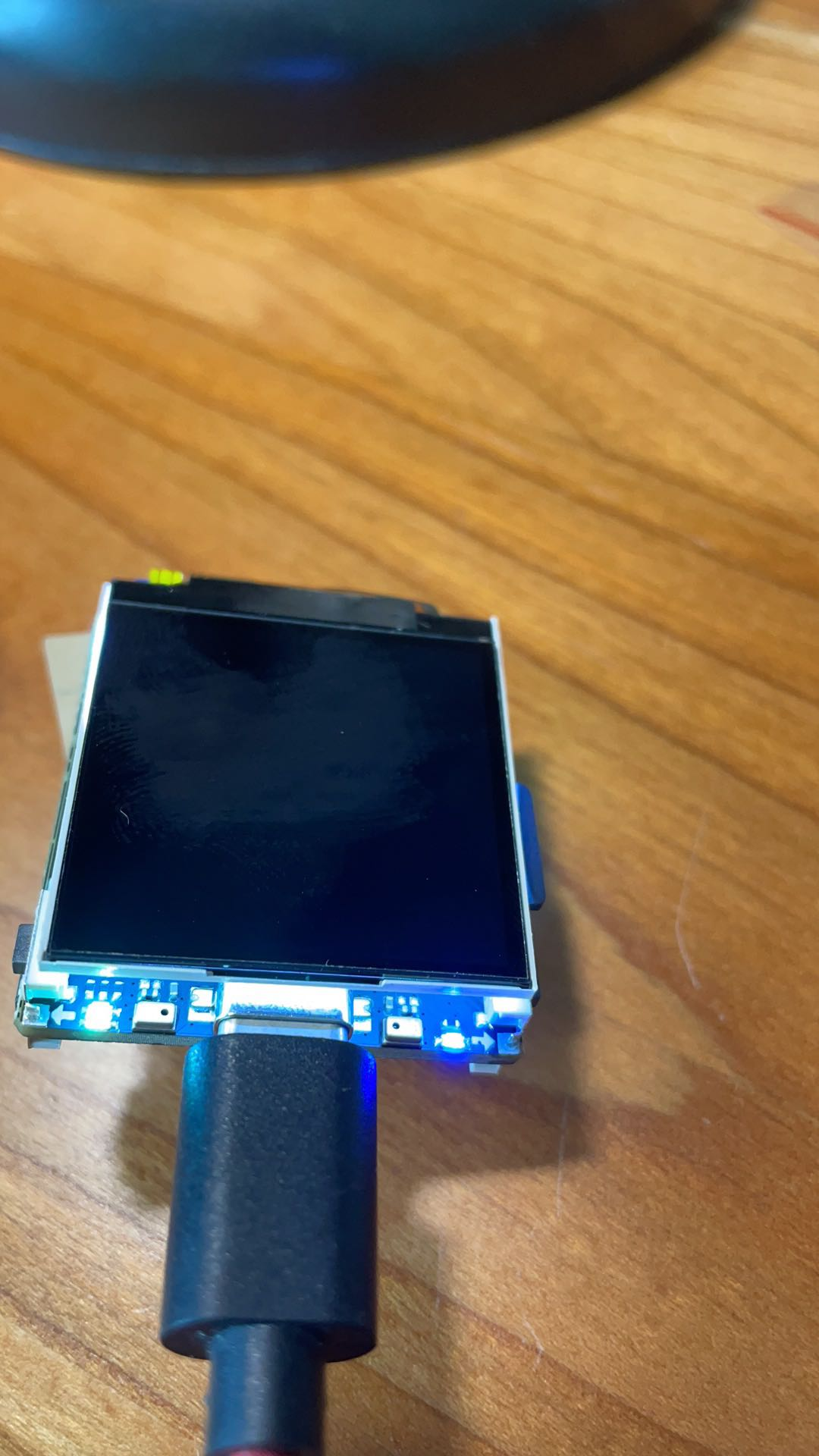 Brush & Configuration
From this article article Download the compiled image
Link: https://pan.baidu.com/s/1vpPH_pHKQ_w3Z4DTxJTixg
Extraction code: 4tni
It contains the compiled image, phoenix card card brush tool, cross compilation environment, and test program.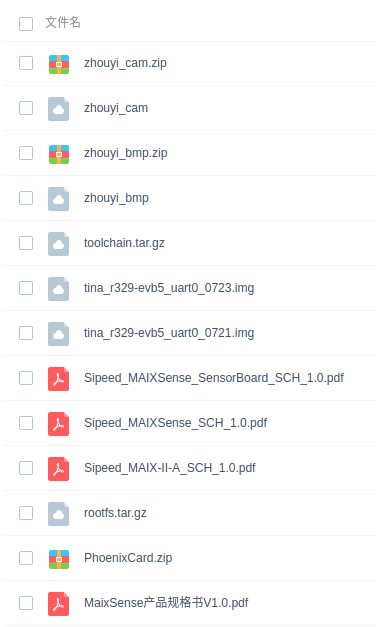 2. After downloading the file, the phoenix card Zip on a Windows computer and unzip it. Insert the sd card into the card reader and insert it into the windows computer. Start phoenix card and select the image downloaded earlier.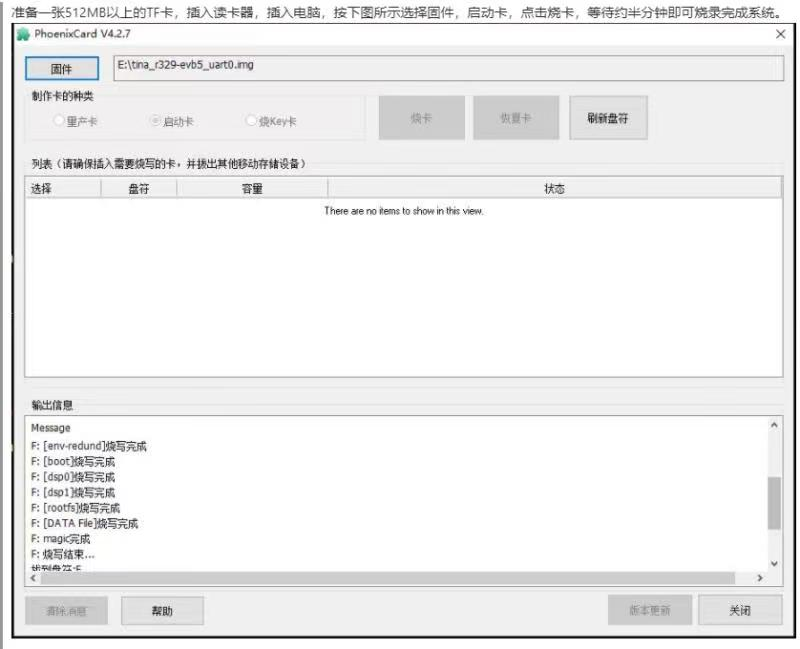 3. After burning, insert the sd card into the board.
sd card location is as follows: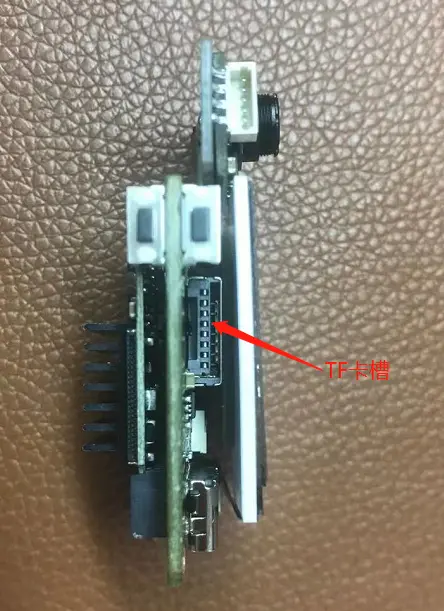 4. Plug in the usb cable for debugging.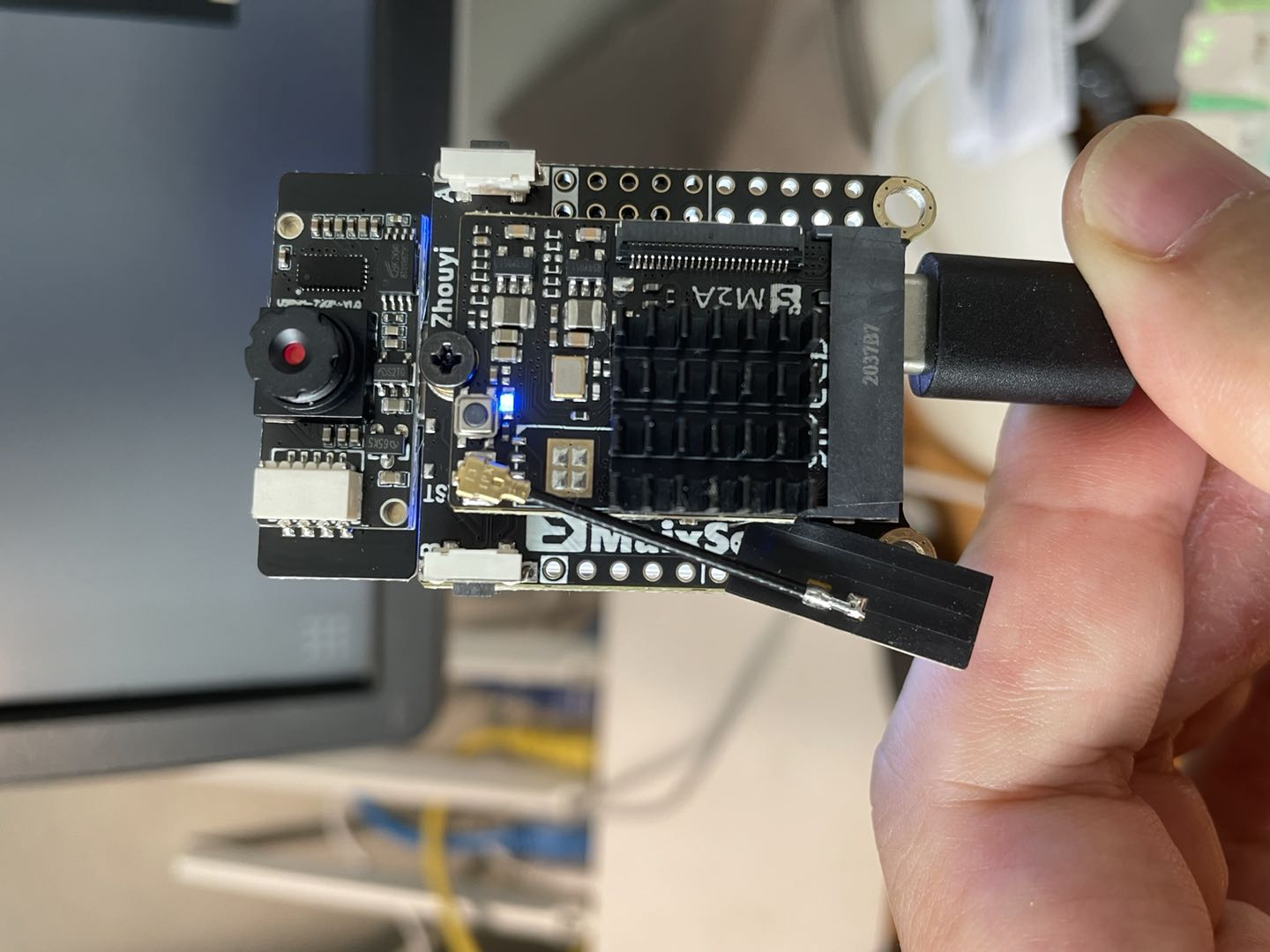 The board has two usb ports. Don't plug it wrong...
When plugged in, the board will start itself. I use Ubuntu system debugging here. Open terminal and check the usb device
ls /dev/ttyUSB*

You should see devices like / dev/ttyUSB0. Next, you can use minicom to enter the system in the board.
sudo apt-get install minicom
sudo minicom -s

You can see an interface similar to the following.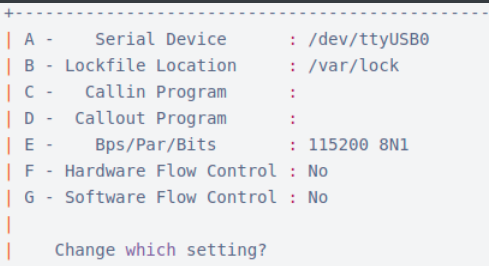 Enter A to set the device name and E to set the serial port number. Here, 115200 is set After saving, enter in the command line
minicom

You can connect to the board.
At this point, you can debug through minicom, but some configuration is needed to facilitate copying files or entering the System Using ssh.
Set password
On the command line, enter the following command to set the root password

passwd root


Configure wifi
Use the following command to configure
wifi_connect_ap_test your_ssid your_password

After configuring wifi, you can use the scp command to copy model files and pictures.
Test aipu
Generate aipu model file
Mentioned in the previous simulation
run mode will test your quant good model in the simulator, while build mode will only generate the model files used by AIPU.
In order to generate the aipu model, we need to compile it in build mode.
Configuration files used here:
[Common]
mode = build

[Parser]
model_type = onnx
input_data_format = NCHW
model_name = densnet
detection_postprocess = 
model_domain = image_classification
input_model = ./model/resnet18-v2-7.onnx
input = data
input_shape = [1, 3, 224, 224]
output =resnetv22_dense0_fwd

[AutoQuantizationTool]
quantize_method = SYMMETRIC
ops_per_channel = DepthwiseConv
reverse_rgb = False
calibration_data = ./dataset/dataset.npy
calibration_label = ./dataset/label.npy
label_id_offset = 0
preprocess_mode = normalize
quant_precision = int8

[GBuilder]
inputs=dataset/input.bin
outputs=dataset/onnx_resnet_output.bin
profile= True
target=Z1_0701

There are two zip packages for the content downloaded earlier, one is zhouyi_cam.zip, the other is zhouyi_bmp.zip, the former is a demo with a camera, and the latter is a demo for image recognition. Here we simply test the demo of the picture.
Put Zhouyi on your Ubuntu system_ bmp. Zip and toolchain tar. GZ decompression
unzip zhouyi_bmp.zip
tar -xvf toolchain.tar.gz

The directory structure is as follows:
├── toolchain
├── zhouyi_bmp


Now you can start compiling.
cd zhouyi_bmp
chmod +x build.sh
./build.sh

After compiling, you can see that a local file named Zhouyi has been generated_ BMP program. The function of this program is to specify a model and an input. The program will load the model, take the input picture as the model input, classify and reason, and print the results.
Ready to enter pictures
Note that we use 224x224 images for classification, so you need to generate one yourself. You can also copy the resize d image below and rename it 224_cat.bmp .


Reasoning on the board
After the previous three steps, we can obtain three files: aipu model file onnx_resnet_output.bin, reasoning executable program_ BMP, and a resize d 224x224 picture. Next, you need to copy it to the board.

scp onnx_resnet_output.bin root@192.168.1.1:
scp zhouyi_bmp root@192.168.1.1:
scp 224_cat.bmp root@192.168.1.1:


192.168.1.1 above is the ip address of the board, which can be obtained by running ifconf G on the board.
Use the preceding minicom to enter the terminal in the board
root@TinaLinux:~# ls
224_cat.bmp             maix_sense              zhouyi_bmp
lyy                     onnx_resnet_output.bin

Running program:
./zhouyi_bmp onnx_resnet_output.bin 224_cat.bmp  1

The printing information is as follows:
Zhouyi min test program: 
Usage: 
   ./zhouyi aipu.bin input.bmp signed [label_oft]
   signed=0, uint8 output; =1, int8 output
   real_label_idx = predict_idx-label_oft, 
   NOTE: bmp file width/height must correct
Step 1 init ctx handle cost 0 ms
[DEMO INFO] AIPU load graph successfully.
Step 2 load graph cost 46 ms
Step 3 alloc tensor buffers cost 0 ms
   Model input:  W=224, H=224, C =3, size=150[91373.825951] armchina aipu: [Job 65536 of Thread 2840] trigger job running done
528
Step 4 read pic cost 10 ms
Step 5 AIPU_create_job cost 0 ms
Step 5 AIPU_finish_job cost 61 ms
Decode Result:
   0: class  283, prob 101; label: tiger cat
   1: class  105, prob  87; label: wallaby, brush kangaroo
   2: class  250, prob  82; label: malamute, malemute, Alaskan malamute
   3: class  285, prob  76; label: Siamese cat, Siamese
   4: class  333, prob  76; label: Angora, Angora rabbit
Step 5 decode_result cost 0 ms
Step 5 AIPU_clean_job cost 0 ms


The use of each flag is mentioned in usage. The int8 quantization represented by the last flag 1 is symmetric quantization. This value should be the same as that in the previous simulation cfg file
[AutoQuantizationTool]
quantize_method = SYMMETRIC

Keep consistent, otherwise the result will be incorrect.
It can be seen from the log information that the category is correctly identified as tiger cat, and the reasoning time is 61ms
maix_ There are some other models in the sense / models directory, which can be tested.
mobilenet v2 test results:
root@TinaLinux:~# ./zhouyi_bmp maix_sense/models/mbnetv2/aipu.bin 224_cat.bmp 1
Zhouyi min test program: 
Usage: 
   ./zhouyi aipu.bin input.bmp signed [label_oft]
   signed=0, uint8 output; =1, int8 output
   real_label_idx = predict_idx-label_oft, 
   NOTE: bmp file width/height must correct
Step 1 init ctx handle cost 0 ms
[DEMO INFO] AIPU load graph successfully.
Step 2 load graph cost 20 ms
Step 3 alloc tensor buffers cost 0 ms
   [91823.443861] armchina aipu: [Job 65536 of Thread 2849] trigger job running done
Model input:  W=224, H=224, C =3, size=150528
Step 4 read pic cost 11 ms
Step 5 AIPU_create_job cost 1 ms
Step 5 AIPU_finish_job cost 46 ms
Decode Result:
   0: class  283, prob  58; label: tiger cat
   1: class  282, prob  52; label: tabby, tabby cat
   2: class  284, prob  30; label: Persian cat
   3: class  286, prob  11; label: Egyptian cat
   4: class  250, prob   4; label: malamute, malemute, Alaskan malamute
Step 5 decode_result cost 0 ms
Step 5 AIPU_clean_job cost 0 ms

root@TinaLinux:~# ./zhouyi_bmp maix_sense/models/resnet50/aipu.bin 224_cat.bmp 1
Zhouyi min test program: 
Usage: 
    ./zhouyi aipu.bin input.bmp signed [label_oft]
    signed=0, uint8 output; =1, int8 output
    real_label_idx = predict_idx-label_oft, 
    NOTE: bmp file width/height must correct
Step 1 init ctx handle cost 0 ms
[DEMO INFO] AIPU load graph successfully.
Step 2 load graph cost 100 ms
Step 3 alloc tensor buffers cost 0 ms
    Model input:  W=224, H=224, C =3, size=15[91748.878217] armchina aipu: [Job 65536 of Thread 2848] trigger job running done
0528
Step 4 read pic cost 10 ms
Step 5 AIPU_create_job cost 0 ms
Step 5 AIPU_finish_job cost 133 ms
Decode Result:
    0: class  281, prob  80; label: grey fox, gray fox, Urocyon cinereoargenteus
    1: class  282, prob  69; label: tabby, tabby cat
    2: class  285, prob  68; label: Siamese cat, Siamese
    3: class  700, prob  61; label: panpipe, pandean pipe, syrinx
    4: class  283, prob  54; label: tiger cat
Step 5 decode_result cost 0 ms
Step 5 AIPU_clean_job cost 0 ms

Startup log information
root@TinaLinux:/# rebootreboot
root@TinaLinux:/# [   89.183315] sunxi-codec-machine sndcodec: sunxi_hifi_sndcodec_startup
[   89.190949] sunxi-codec-machine sndcodec: sunxi_hifi_sndcodec_hw_params
[   89.198473] sunxi-internal-cpudai cpudai: ======== hw_params ========
[   89.206532] sunxi-internal-cpudai cpudai: pcm_params->format:2
[   89.213327] sunxi-internal-cpudai cpudai: pcm_params->channels:2
[   89.220193] sunxi-internal-cpudai cpudai: pcm_params->rate:48000
[   89.226984] sunxi-internal-cpudai cpudai: pcm_params->period_size:1024
[   89.234591] sunxi-internal-cpudai cpudai: pcm_params->periods:4
[   89.241327] sunxi-internal-cpudai cpudai: pcm_params->pcm_frames:1024
[   89.248734] sunxi-internal-cpudai cpudai: pcm_params->buffer_size:4096
[   89.256103] sunxi-internal-cpudai cpudai: ===========================
[   89.263915] RTW: clear key for addr:78:11:dc:5a:66:f8, camid:0
[   89.271213] RTW: clear key for addr:78:11:dc:5a:66:f8, camid:1
[   89.279509] RTW: ERROR Free disconnecting network of scanned_queue failed due to pwlan == NULL
[   89.279509] 
[   89.388601] EXT4-fs (mmcblk0p7): re-mounted. Opts: (null)
[   89.423041] sunxi-internal-cpudai cpudai: sunxi_hifi_pcm_hw_params
[   93.224176] sunxi-internal-cpudai cpudai: sunxi_hifi_pcm_hw_free
[   93.403258] sunxi-codec-machine sndcodec: sunxi_hifi_sndcodec_shutdown
[   93.415702] android_work: did not send uevent (0 0           (null))
[   94.919083] sunxi-mmc sdc0: sdc set ios:clk 0Hz bm PP pm OFF vdd 0 width 1 timing LEGACY(SDR12) dt B
[   94.930798] [alarmtimer] have no shutdown alarm! alarmtimer_shutdown 322
[   95.041724] [LCD_FB] lcd_fb_gpio_set_value,line:353:
[   95.047128] OSAL_GPIO_DevWRITE_ONEPIN_DATA, hdl is NULL
[   95.081726] [LCD_FB] lcd_fb_gpio_set_value,line:353:
[   95.087130] OSAL_GPIO_DevWRITE_ONEPIN_DATA, hdl is NULL
[   95.105814] [LCD_FB] lcd_fb_shutdown,line:89:
[   95.110534] Finish
[   95.113322] reboot: Restarting system
[277]HELLO! BOOT0 is starting!
[280]BOOT0 commit : 97444f5
[283]set pll start
[285]periph0 has been enabled
[288]set pll end
[290]board init ok
[292]rtc[3] value = 0xa102
[294]the chip id is 0x3
[297]the chip id is 0x3
[299]the chip id is 0x3
[301]the chip id is 0x3
[304]the chip id is 0x3
[306]chip id check OK
[309][AUTO DEBUG] two rank and full DQ!
[313][AUTO DEBUG] DDR3 try success
[317][AUTO DEBUG] single rank and full DQ!
[322][AUTO DEBUG] rank 0 row = 14 
[325][AUTO DEBUG] rank 0 bank = 8 
[329][AUTO DEBUG] rank 0 page size = 2 KB 
[333]DRAM BOOT DRIVE INFO: V0.171
[336]DRAM Type = 3 (2:DDR2,3:DDR3)
[339]DRAMC read ODT  off.
[342]DRAM ODT off.
[345]DRAM CLK = 774 MHz
[347]DRAM SIZE =256 M
[352]DRAM simple test OK.
[355]dram size =256
[358]card no is 0
[359]sdcard 0 line count 4
[362][mmc]: mmc driver ver 2020-07-22 11:09
[372][mmc]: Wrong media type 0x0
[375][mmc]: ***Try SD card 0***
[396]mmc_read_info 787:region magic is not right, retry more time 0
[413]mmc_read_info 787:region magic is not right, retry more time 0
[431]mmc_read_info 787:region magic is not right, retry more time 0
[448]mmc_read_info 787:region magic is not right, go err 0
[454]dump info registers:[456]
0x107184 : [458]2465 [459]a0012 [460]46338 [461]0 [461]
[462][mmc]: RMCA FAIL!
[464][mmc]: mmc read timing info fail
[468][mmc]: force 25m
[470][mmc]: mmc 0 bias 0
[475][mmc]: HSSDR52/SDR25 4 bit
[478][mmc]: 25000000 Hz
[480][mmc]: 7512 MB
[482][mmc]: ***SD/MMC 0 init OK!!!***
[584]Loading boot-pkg Succeed(index=0).
[587]Entry_name        = u-boot
[594]Entry_name        = monitor
[597]Entry_name        = dtb
[601]mmc not para
[602]Jump to second Boot.
NOTICE:  BL3-1: v1.0(debug):3eba4b6
NOTICE:  BL3-1: Built : 10:18:25, 2020-05-21
NOTICE:  BL3-1 commit: 8
ERROR:   Error initializing runtime service tspd_fast
NOTICE:  BL3-1: Preparing for EL3 exit to normal world
NOTICE:  BL3-1: Next image address = 0x43000000
NOTICE:  BL3-1: Next image spsr = 0x1d3�

U-Boot 2018.05 (Mar 29 2021 - 10:30:51 +0000) Allwinner Technology

[00.658]CPU:   Allwinner Family
[00.661]Model: sun50iw11
I2C:   ready
[00.782]DRAM:  256 MiB
[00.784]Relocation Offset is: 0cefc000
[00.808]secure enable bit: 0
[00.810]CPU=1008 MHz,PLL6=600 Mhz,AHB=200 Mhz, APB1=100Mhz  MBus=0Mhz
[00.821]gic: sec monitor mode
[00.824]flash init start
[00.826]workmode = 0,storage type = 1
[00.829][mmc]: mmc driver ver uboot2018:2020-10-22 16:39:00
[00.840][mmc]: Using default timing para
[00.843][mmc]: SUNXI SDMMC Controller Version:0x50300
[00.861][mmc]: card_caps:0x3000000a
[00.864][mmc]: host_caps:0x3000003f
[00.869]sunxi flash init ok
[00.871]bmp_name=bootlogo.bmp
307254 bytes read in 15 ms (19.5 MiB/s)
[00.905]Loading Environment from SUNXI_FLASH... OK
[00.926]Item0 (Map) magic is bad
[00.928]the secure storage item0 copy0 magic is bad
[00.934]Item0 (Map) magic is bad
[00.937]the secure storage item0 copy1 magic is bad
[00.941]Item0 (Map) magic is bad
[00.944]usb burn from boot
delay time 0
weak:otg_phy_config
[00.956]usb prepare ok
[01.759]overtime
[01.763]do_burn_from_boot usb : no usb exist
partno erro : can't find partition private
[01.772]update bootcmd
[01.777]update dts
Hit any key to stop autoboot:  0 
[01.847]phase vdd-cpu: 0x00000000
[01.850]phase vdd-sys: 0x00000000
[01.853]phase vcc-pll: 0x00000000
[01.856]phase osc24m-on: 0x00000001
[01.859]phase pllcpu-off: 0x00000001
[01.862]phase pllperiph0-off: 0x00000001
[01.866]phase pllaudio0-off: 0x00000000
[01.869]phase pllaudio1-off: 0x00000001
[01.873]phase ahb1ahb2-to-32k: 0x00000001
[01.877]phase apb1-to-32k: 0x00000000
[01.880]phase apb2-to-32k: 0x00000001
[01.883]phase axi-to-32k: 0x00000001
[01.887]phase apbs0-to-32k: 0x00000000
[01.890]phase apbs1-to-32k: 0x00000000
[01.894]phase uart-off: 0x00000000
[01.897]phase nmi-wakeup: 0x00000000
[01.900]phase sleep-freq: 0x00005dc0
DSP VERSION IS smartx-r329-tina-v0.5.0-release-58-g87af487-dirty
DSP0 booting from 0x100400...
Android's image name: r329-evb5
[02.403]Starting kernel ...

[02.405][mmc]: MMC Device 2 not found
[02.409][mmc]: mmc 2 not find, so not exit
[    0.000000] Booting Linux on physical CPU 0x0
[    0.000000] Linux version 4.9.191 (dls@sipeed-ai) (gcc version 6.4.1 (OpenWrt/Linaro GCC 6.4-2017.11 2017-11) ) #29 SMP PREEMPT Wed Jul 21 10:40:58 UTC 2021
[    0.000000] Boot CPU: AArch64 Processor [410fd034]
[    0.000000] bootconsole [earlycon0] enabled
[    0.000000] cma: Reserved 96 MiB at 0x000000004a000000
[    0.000000] On node 0 totalpages: 65536
[    0.000000]   DMA zone: 1024 pages used for memmap
[    0.000000]   DMA zone: 0 pages reserved
[    0.000000]   DMA zone: 65536 pages, LIFO batch:15
[    0.000000] psci: probing for conduit method from DT.
[    0.000000] psci: PSCIv1.0 detected in firmware.
[    0.000000] psci: Using standard PSCI v0.2 function IDs
[    0.000000] psci: Trusted OS migration not required
[    0.000000] psci: SMC Calling Convention v1.0
[    0.000000] percpu: Embedded 21 pages/cpu s46360 r8192 d31464 u86016
[    0.000000] pcpu-alloc: s46360 r8192 d31464 u86016 alloc=21*4096
[    0.000000] pcpu-alloc: [0] 0 [0] 1 
[    0.000000] Detected VIPT I-cache on CPU0
[    0.000000] CPU features: enabling workaround for ARM erratum 845719
[    0.000000] Built 1 zonelists in Zone order, mobility grouping on.  Total pages: 64512
[    0.000000] Kernel command line: earlyprintk=sunxi-uart,0x02500000 initcall_debug=0 console=ttyS0,115200 loglevel=8 root=/dev/mmcblk0p7 rootwait init=/sbin/init rdinit=/rdinit partitions= cma=96M mac_addr= wifi_mac= bt_mac= selinux=0 specialstr= snum=5c000c29b24446a0f4c pstore_blk.blkdev= pstore.update_ms=1000 androidboot.serialno=5c000c29b24446a0f4c androidboot.hardware=sun50iw11p1 boot_type=1 androidboot.boot_type=1 androidboot.secure_os_exist=0 gpt=1 uboot_message=2018.05(03/29/2021-10:30:51) mbr_offset=1032192 
[    0.000000] PID hash table entries: 1024 (order: 1, 8192 bytes)
[    0.000000] Dentry cache hash table entries: 32768 (order: 6, 262144 bytes)
[    0.000000] Inode-cache hash table entries: 16384 (order: 5, 131072 bytes)
[    0.000000] Memory: 138624K/262144K available (7294K kernel code, 614K rwdata, 2084K rodata, 448K init, 277K bss, 25216K reserved, 98304K cma-reserved)
[    0.000000] Virtual kernel memory layout:
[    0.000000]     modules : 0xffffff8000000000 - 0xffffff8008000000   (   128 MB)
[    0.000000]     vmalloc : 0xffffff8008000000 - 0xffffffbebfff0000   (   250 GB)
[    0.000000]       .text : 0xffffff8008080000 - 0xffffff80087a0000   (  7296 KB)
[    0.000000]     .rodata : 0xffffff80087a0000 - 0xffffff80089b0000   (  2112 KB)
[    0.000000]       .init : 0xffffff80089b0000 - 0xffffff8008a20000   (   448 KB)
[    0.000000]       .data : 0xffffff8008a20000 - 0xffffff8008ab9808   (   615 KB)
[    0.000000]        .bss : 0xffffff8008ab9808 - 0xffffff8008afecf4   (   278 KB)
[    0.000000]     fixed   : 0xffffffbefe7fb000 - 0xffffffbefec00000   (  4116 KB)
[    0.000000]     PCI I/O : 0xffffffbefee00000 - 0xffffffbeffe00000   (    16 MB)
[    0.000000]     memory  : 0xffffffc000000000 - 0xffffffc010000000   (   256 MB)
[    0.000000] SLUB: HWalign=64, Order=0-3, MinObjects=0, CPUs=2, Nodes=1
[    0.000000] Preemptible hierarchical RCU implementation.
[    0.000000] 	Build-time adjustment of leaf fanout to 64.
[    0.000000] NR_IRQS:64 nr_irqs:64 0
[    0.000000] clk r_dsp_cache0 not found in of_sunxi_periph_cpus_clk_setup
[    0.000000] clk r_dsp_cache1 not found in of_sunxi_periph_cpus_clk_setup
[    0.000000] clocksource: timer: mask: 0xffffffff max_cycles: 0xffffffff, max_idle_ns: 79635851949 ns
[    0.000000] arm_arch_timer: Architected cp15 timer(s) running at 24.00MHz (virt).
[    0.000000] clocksource: arch_sys_counter: mask: 0xffffffffffffff max_cycles: 0x588fe9dc0, max_idle_ns: 440795202592 ns
[    0.000005] sched_clock: 56 bits at 24MHz, resolution 41ns, wraps every 4398046511097ns
[    0.008194] Console: colour dummy device 80x25
[    0.012412] Calibrating delay loop (skipped), value calculated using timer frequency.. 48.00 BogoMIPS (lpj=96000)
[    0.022619] pid_max: default: 32768 minimum: 301
[    0.027378] Mount-cache hash table entries: 512 (order: 0, 4096 bytes)
[    0.033722] Mountpoint-cache hash table entries: 512 (order: 0, 4096 bytes)
[    0.041508] sched-energy: CPU device node has no sched-energy-costs
[    0.046922] Invalid sched_group_energy for CPU0
[    0.051401] CPU0: update cpu_capacity 1024
[    0.067519] ASID allocator initialised with 32768 entries
[    0.123752] Detected VIPT I-cache on CPU1
[    0.123803] Invalid sched_group_energy for CPU1
[    0.123807] CPU1: update cpu_capacity 1024
[    0.123810] CPU1: Booted secondary processor [410fd034]
[    0.123893] Brought up 2 CPUs
[    0.138995] SMP: Total of 2 processors activated.
[    0.143685] CPU features: detected feature: 32-bit EL0 Support
[    0.149490] CPU features: detected feature: Kernel page table isolation (KPTI)
[    0.158808] CPU: All CPU(s) started at EL1
[    0.160767] alternatives: patching kernel code
[    0.165335] Invalid sched_group_energy for CPU1
[    0.169687] Invalid sched_group_energy for Cluster1
[    0.174536] Invalid sched_group_energy for CPU0
[    0.179043] Invalid sched_group_energy for Cluster0
[    0.184390] devtmpfs: initialized
[    0.213757] clocksource: jiffies: mask: 0xffffffff max_cycles: 0xffffffff, max_idle_ns: 7645041785100000 ns
[    0.217887] futex hash table entries: 512 (order: 4, 65536 bytes)
[    0.227308] atomic64_test: passed
[    0.227348] pinctrl core: initialized pinctrl subsystem
[    0.233470] NET: Registered protocol family 16
[    0.238190] dump_class_init,857, success
[    0.252971] cpuidle: using governor menu
[    0.253656] vdso: 2 pages (1 code @ ffffff80087a6000, 1 data @ ffffff8008a24000)
[    0.259778] DMA: preallocated 256 KiB pool for atomic allocations
[    0.270831] sun50iw11p1-r-pinctrl r_pio: initialized sunXi PIO driver
[    0.279369] sun50iw11p1-pinctrl pio: initialized sunXi PIO driver
[    0.374406] pwm module init!
[    0.378200] sunxi-pm debug v3.10
[    0.378994] SCSI subsystem initialized
[    0.379860] usbcore: registered new interface driver usbfs
[    0.385116] usbcore: registered new interface driver hub
[    0.390383] usbcore: registered new device driver usb
[    0.395466] sunxi_i2c_adap_init()2649 - init
[    0.400062] sunxi_i2c_probe()2372 - [i2c2] twi_drv_used = 1
[    0.405123] sunxi_i2c_probe()2379 - [i2c2] twi_pkt_interval = 0
[    0.411007] twi2 supply twi not found, using dummy regulator
[    0.416701] twi_request_gpio()458 - [i2c2] init name: (null)
[    0.422473] sunxi_i2c_dma_request()1088 - [i2c2] using dma0chan0 (tx) and dma0chan1 (rx)for DMA transfers
[    0.432243] sunxi_i2c_probe()2372 - [i2c1] twi_drv_used = 0
[    0.437352] sunxi_i2c_probe()2379 - [i2c1] twi_pkt_interval = 0
[    0.443250] twi1 supply twi not found, using dummy regulator
[    0.448952] twi_request_gpio()458 - [i2c1] init name: (null)
[    0.455267] Linux video capture interface: v2.00
[    0.460191] ion_parse_dt_heap_common: id 0 type 0 name sys_user align 1000
[    0.466167] ion_parse_dt_heap_common: id 4 type 4 name cma align 1000
[    0.472520] ion_parse_dt_heap_common: id 6 type 6 name secure align 1000
[    0.479328] ion_heap_create: Invalid heap type 6
[    0.486858] Advanced Linux Sound Architecture Driver Initialized.
[    0.490385] Bluetooth: Core ver 2.22
[    0.493284] NET: Registered protocol family 31
[    0.497679] Bluetooth: HCI device and connection manager initialized
[    0.504007] Bluetooth: HCI socket layer initialized
[    0.508853] Bluetooth: L2CAP socket layer initialized
[    0.513911] Bluetooth: SCO socket layer initialized
[    0.523803] input: sunxi-keyboard as /devices/virtual/input/input0
[    0.527381] clocksource: Switched to clocksource arch_sys_counter
[    0.542613] get androidboot.mode fail
[    0.543424] NET: Registered protocol family 2
[    0.545491] TCP established hash table entries: 16 (order: -5, 128 bytes)
[    0.551848] TCP bind hash table entries: 16 (order: -4, 256 bytes)
[    0.557914] TCP: Hash tables configured (established 16 bind 16)
[    0.564203] UDP hash table entries: 256 (order: 1, 8192 bytes)
[    0.569714] UDP-Lite hash table entries: 256 (order: 1, 8192 bytes)
[    0.576163] NET: Registered protocol family 1
[    0.580936] sunxi_spi_probe()2633 - [spi1] SPI DBI INTERFACE
[    0.585909] sunxi_spi_probe()2642 - [spi1] SPI MASTER MODE
[    0.591443] spi1 supply spi not found, using dummy regulator
[    0.597062] sunxi_spi_request_gpio()2252 - [spi1] Pinctrl init spi1
[    0.603329] sunxi_spi_clk_init()2302 - [spi1] mclk 100000000
[    0.609283] spi spi1: master is unqueued, this is deprecated
[    0.614521] sunxi_spi_probe()2723 - [spi1]: driver probe succeed, base ffffff800806c000, irq 256
[    0.625956] workingset: timestamp_bits=61 max_order=16 bucket_order=0
[    0.638536] squashfs: version 4.0 (2009/01/31) Phillip Lougher
[    0.641579] io scheduler noop registered
[    0.642634] io scheduler deadline registered
[    0.647623] io scheduler cfq registered (default)
[    0.652990] [LCD_FB] lcd_fb_init,line:159:
[    0.655494] 
[    0.657311] [LCD_FB] lcd_fb_probe,line:65:
[    0.661051] 
[    0.682557] [LCD_FB] lcd_fb_script_get_item,line:139:
[    0.682600] of_find_compatible_node allwinner,sunxi-lcd_fb1 fail
[    0.688204] [LCD_FB] disp_lcd_set_panel_funs,line:1068:
[    0.693001] lcd_panel_fun[0].cfg_panel_info is NULL
[    0.698610] [LCD_FB] Fb_map_kernel_logo,line:201:
[    0.702534] Fb_map_kernel_logo failed![LCD_FB] disp_lcd_spiYօ��60000000 mode:0
[    0.713426] uart uart0: get regulator failed
[    0.713442] uart0 supply uart not found, using dummy regulator
[    0.713630] uart0: ttyS0 at MMIO 0x2500000 (irq = 242, base_baud = 1500000) is a SUNXI
[    0.713649] sw_console_setup()2047 - console setup baud 115200 parity n bits 8, flow n
[    0.735890] [LCD_FB] lcd_fb_gpio_set_value,line:353:[    0.735890] [LCD_FB] lcd_fb_gpio_set_value,line:353:[    0.735897] OSAL_GPIO_DevWRITE_ONEPIN_DATA, hdl is NULL
[    0.735897] OSAL_GPIO_DevWRITE_ONEPIN_DATA, hdl is NULL
[    0.736311] [LCD_FB] lcd_fb_gpio_set_value,line:353:[    0.736311] [LCD_FB] lcd_fb_gpio_set_value,line:353:[    0.736313] OSAL_GPIO_DevWRITE_ONEPIN_DATA, hdl is NULL
[    0.736313] OSAL_GPIO_DevWRITE_ONEPIN_DATA, hdl is NULL


[    0.778763] console [ttyS0] enabled
[    0.778763] console [ttyS0] enabled
[    0.788212] bootconsole [earlycon0] disabled
[    0.788212] bootconsole [earlycon0] disabled
[    0.797244] uart uart1: get regulator failed
[    0.805492] uart1 supply uart not found, using dummy regulator
[    0.812286] uart1: ttyS1 at MMIO 0x2500400 (irq = 243, base_baud = 1500000) is a SUNXI
[    0.822006] misc dump reg init
[    0.825719] Unable to detect cache hierarchy for CPU 0
[    0.831767] sunxi-bt soc@03000000:bt: bt_power_num (4294967232)
[    0.838434] sunxi-bt soc@03000000:bt: Missing bt_io_regulator.
[    0.839414] [LCD_FB] lcd_fb_gpio_set_value,line:353:
[    0.839415] OSAL_GPIO_DevWRITE_ONEPIN_DATA, hdl is NULL
[    0.856440] sunxi-bt soc@03000000:bt: io_regulator_name ((null))
[    0.863199] sunxi-bt soc@03000000:bt: request pincrtl handle for device [soc@03000000:bt] failed
[    0.873125] sunxi-bt soc@03000000:bt: bt_rst gpio=386  mul-sel=1  pull=1  drv_level=2  data=0
[    0.882735] sunxi-bt soc@03000000:bt: clk_name ()
[    0.888070] sunxi-bt soc@03000000:bt: clk not config
[    0.894211] sunxi-wlan soc@03000000:wlan: wlan_busnum (1)
[    0.900298] sunxi-wlan soc@03000000:wlan: wlan_power_num (-1)
[    0.906767] sunxi-wlan soc@03000000:wlan: Missing wlan_io_regulator.
[    0.913909] sunxi-wlan soc@03000000:wlan: io_regulator_name ((null))
[    0.921059] sunxi-wlan soc@03000000:wlan: request pincrtl handle for device [soc@03000000:wlan] failed
[    0.931566] sunxi-wlan soc@03000000:wlan: wlan_regon gpio=384  mul-sel=1  pull=-1  drv_level=-1  data=0
[    0.942143] sunxi-wlan soc@03000000:wlan: get gpio chip_en failed
[    0.949011] sunxi-wlan soc@03000000:wlan: wlan_hostwake gpio=388  mul-sel=6  pull=-1  drv_level=-1  data=0
[    0.951399] [LCD_FB] lcd_fb_gpio_set_value,line:353:
[    0.951399] OSAL_GPIO_DevWRITE_ONEPIN_DATA, hdl is NULL
[    0.971382] sunxi-wlan soc@03000000:wlan: clk_name ()
[    0.977859] mtd device must be supplied (device name is empty)
[    0.984774] libphy: Fixed MDIO Bus: probed
[    0.990461] gmac-power0: NULL
[    0.993819] gmac-power1: NULL
[    0.997167] gmac-power2: NULL
[    1.001456] Failed to alloc md5
[    1.005030] eth0: Use random mac address
[    1.009621] RTW: module init start
[    1.013457] RTW: rtl8723ds v5.10.1-26-ga10bc0b8b.20200617_COEX20200103-3535
[    1.021291] RTW: build time: Jul 20 2021 13:31:31
[    1.026583] RTW: rtl8723ds BT-Coex version = COEX20200103-3535
[    1.143153] sunxi-wlan soc@03000000:wlan: bus_index: 1
[    1.148926] sunxi_hosts[1] should not be nullRTW: module init ret=0
[    1.156103] ehci_hcd: USB 2.0 'Enhanced' Host Controller (EHCI) Driver
[    1.163678] get ehci0-controller, regulator_io is no nocare
[    1.169944] get ehci0-controller wakeup-source is fail.
[    1.175986] sunxi ehci0-controller don't init wakeup source
[    1.182255] [sunxi-ehci0]: probe, pdev->name: 4101000.ehci0-controller, sunxi_ehci: 0xffffff8008aebda8, 0x:ffffff8008074000, irq_no:f9
[    1.195839] [sunxi-ehci0]: Not init ehci0
[    1.200761] ohci_hcd: USB 1.1 'Open' Host Controller (OHCI) Driver
[    1.208020] get ohci0-controller, regulator_io is no nocare
[    1.214290] get ohci0-controller wakeup-source is fail.
[    1.220413] sunxi ohci0-controller don't init wakeup source
[    1.226788] [sunxi-ohci0]: probe, pdev->name: 4101000.ohci0-controller, sunxi_ohci: 0xffffff8008aec118
[    1.237250] [sunxi-ohci0]: Not init ohci0
[    1.241867] get ohci1-controller, regulator_io is no nocare
[    1.248163] get ohci1-controller wakeup-source is fail.
[    1.254280] sunxi ohci1-controller don't init wakeup source
[    1.260697] [sunxi-ohci1]: probe, pdev->name: 4201000.ohci1-controller, sunxi_ohci: 0xffffff8008aec7f8
[    1.271193] 4201000.ohci1-controller supply drvvbus not found, using dummy regulator
[    1.282081] sunxi-ohci 4201000.ohci1-controller: SW USB2.0 'Open' Host Controller (OHCI) Driver
[    1.291882] sunxi-ohci 4201000.ohci1-controller: new USB bus registered, assigned bus number 1
[    1.301676] sunxi-ohci 4201000.ohci1-controller: irq 252, io mem 0x00000040
[    1.371571] usb usb1: New USB device found, idVendor=1d6b, idProduct=0001
[    1.379206] usb usb1: New USB device strings: Mfr=3, Product=2, SerialNumber=1
[    1.387323] usb usb1: Product: SW USB2.0 'Open' Host Controller (OHCI) Driver
[    1.395341] usb usb1: Manufacturer: Linux 4.9.191 ohci_hcd
[    1.401508] usb usb1: SerialNumber: sunxi-ohci
[    1.407272] hub 1-0:1.0: USB hub found
[    1.411535] hub 1-0:1.0: 1 port detected
[    1.416777] usbcore: registered new interface driver uas
[    1.422865] usbcore: registered new interface driver usb-storage
[    1.429676] usbcore: registered new interface driver ums-alauda
[    1.436384] usbcore: registered new interface driver ums-cypress
[    1.443190] usbcore: registered new interface driver ums-datafab
[    1.449987] usbcore: registered new interface driver ums_eneub6250
[    1.456987] usbcore: registered new interface driver ums-freecom
[    1.463790] usbcore: registered new interface driver ums-isd200
[    1.470503] usbcore: registered new interface driver ums-jumpshot
[    1.477399] usbcore: registered new interface driver ums-karma
[    1.484005] usbcore: registered new interface driver ums-onetouch
[    1.490932] usbcore: registered new interface driver ums-realtek
[    1.497748] usbcore: registered new interface driver ums-sddr09
[    1.504453] usbcore: registered new interface driver ums-sddr55
[    1.511159] usbcore: registered new interface driver ums-usbat
[    1.517812] usb_serial_number:20080411
[    1.523136] sunxi_gpadc_init,1891, success
[    1.528708] sunxi-rtc rtc: rtc core: registered sunxi-rtc as rtc0
[    1.535632] sunxi-rtc rtc: RTC enabled
[    1.540170] i2c /dev entries driver
[    1.544630] lirc_dev: IR Remote Control driver registered, major 249
[    1.551789] IR NEC protocol handler initialized
[    1.556884] IR RC5(x/sz) protocol handler initialized
[    1.562563] IR LIRC bridge handler initialized
[    1.567718] sun50iw11p1-r-pinctrl r_pio: expect_func as:s_cir0, but muxsel(2) is func:s_ir
[    1.577280] sunxi_ir_startup: get ir protocol failed
[    1.582680] s_cir_rx supply ir0 not found, using dummy regulator
[    1.589763] Registered IR keymap rc_map_sunxi
[    1.595001] input: sunxi-ir as /devices/platform/soc/s_cir_rx/rc/rc0/input1
[    1.603043] rc rc0: sunxi-ir as /devices/platform/soc/s_cir_rx/rc/rc0
[    1.610634] rc rc0: lirc_dev: driver ir-lirc-codec (sunxi-rc-recv) registered at minor = 0
[    1.620529] sun50iw11p1-pinctrl pio: expect_func as:ir0, but muxsel(2) is func:ir
[    1.629069] sunxi_ir_tx_probe()644 - sunxi-ir-tx v1.0.0
[    1.634972] sunxi_ir_tx_startup()617 - base: ffffff8008b57000 !
[    1.641729] sunxi_ir_tx_startup()624 - irq num: 245 !
[    1.647490] Registered IR keymap rc_map_sunxi
[    1.652742] input: sunxi-ir-tx as /devices/platform/soc/ir_tx/rc/rc1/ir_tx
[    1.660670] rc rc1: sunxi-ir-tx as /devices/platform/soc/ir_tx/rc/rc1
[    1.668157] rc rc1: lirc_dev: driver ir-lirc-codec (sunxi-ir-tx) registered at minor = 1
[    1.677267] sunxi_ir_tx_probe()695 - register rc device success
[    1.683929] ir_tx_clk_cfg()336 - get ir parent rate 24000000HZ
[    1.690508] ir_tx_clk_cfg()345 - get ir_clk rate 12000000HZ
[    1.696771] sunxi_ir_tx_probe()705 - ir_tx_setup success
[    1.702804] sunxi_ir_tx_probe()715 - request irq success
[    1.708776] sunxi_ir_tx_probe()716 - probe success
[    1.714583] usbcore: registered new interface driver uvcvideo
[    1.721044] USB Video Class driver (1.1.1)
[    1.725654] gspca_main: v2.14.0 registered
[    1.730257] sunxi cedar version 0.1
[    1.734500] google_vp9: sunxi google vp9 version 0.1
[    1.742000] sunxi-wdt 20000a0.watchdog: Watchdog enabled (timeout=16 sec, nowayout=0)
[    1.751142] Bluetooth: HCI UART driver ver 2.2.d448471.20181218-163903
[    1.758495] Bluetooth: HCI UART protocol H4 registered
[    1.764274] Bluetooth: HCI H4 protocol initialized
[    1.769662] Bluetooth: HCI UART protocol (null) registered
[    1.775831] Bluetooth: HCI Realtek H5 protocol initialized
[    1.782203] Bluetooth: XRadio Bluetooth LPM Mode Driver Ver 01.00.07
[    1.789680] [XR_BT_LPM] bluesleep_probe: bt_wake polarity: 1
[    1.796078] [XR_BT_LPM] bluesleep_probe: host_wake polarity: 0
[    1.802645] [XR_BT_LPM] bluesleep_probe: uart_index(1)
[    1.808586] bt_fdi debugfs_init
[    1.814522] sunxi-mmc sdc0: SD/MMC/SDIO Host Controller Driver(v3.50 2021-01-04 19:06)
[    1.823595] sunxi-mmc sdc0: ***ctl-spec-caps*** 8
[    1.828937] sunxi-mmc sdc0: No vmmc regulator found
[    1.834433] sunxi-mmc sdc0: No vqmmc regulator found
[    1.840015] sunxi-mmc sdc0: No vdmmc regulator found
[    1.845600] sunxi-mmc sdc0: No vd33sw regulator found
[    1.851276] sunxi-mmc sdc0: No vd18sw regulator found
[    1.856959] sunxi-mmc sdc0: No vq33sw regulator found
[    1.862637] sunxi-mmc sdc0: No vq18sw regulator found
[    1.868833] sunxi-mmc sdc0: set host busy
[    1.873431] sunxi-mmc sdc0: Got CD GPIO
[    1.878038] sunxi-mmc sdc0: sdc set ios:clk 0Hz bm PP pm UP vdd 21 width 1 timing LEGACY(SDR12) dt B
[    1.888336] sunxi-mmc sdc0: no vqmmc,Check if there is regulator
[    1.911403] sunxi-mmc sdc0: sdc set ios:clk 400000Hz bm PP pm ON vdd 21 width 1 timing LEGACY(SDR12) dt B
[    1.939883] sunxi-mmc sdc0: detmode:gpio irq
[    1.939917] sunxi-mmc sdc0: sdc set ios:clk 400000Hz bm PP pm ON vdd 21 width 1 timing LEGACY(SDR12) dt B
[    1.946875] sunxi-mmc sdc0: sdc set ios:clk 400000Hz bm PP pm ON vdd 21 width 1 timing LEGACY(SDR12) dt B
[    1.969813] sunxi-mmc sdc0: sdc set ios:clk 400000Hz bm PP pm ON vdd 21 width 1 timing LEGACY(SDR12) dt B
[    1.980644] sunxi-mmc sdc1: SD/MMC/SDIO Host Controller Driver(v3.50 2021-01-04 19:06)
[    1.980822] sunxi-mmc sdc1: No vmmc regulator found
[    1.980826] sunxi-mmc sdc1: No vqmmc regulator found
[    1.980831] sunxi-mmc sdc1: No vdmmc regulator found
[    1.980836] sunxi-mmc sdc1: No vd33sw regulator found
[    1.980841] sunxi-mmc sdc1: No vd18sw regulator found
[    1.980845] sunxi-mmc sdc1: No vq33sw regulator found
[    1.980850] sunxi-mmc sdc1: No vq18sw regulator found
[    1.990233] sunxi-mmc sdc1: set host busy
[    1.990314] mmc:failed to get gpios
[    1.990553] sunxi-mmc sdc1: sdc set ios:clk 0Hz bm PP pm UP vdd 21 width 1 timing LEGACY(SDR12) dt B
[    1.990581] sunxi-mmc sdc1: no vqmmc,Check if there is regulator
[    2.012972] sunxi-mmc sdc1: sdc set ios:clk 400000Hz bm PP pm ON vdd 21 width 1 timing LEGACY(SDR12) dt B
[    2.031414] sunxi-mmc sdc1: detmode:manually by software
[    2.032334] sunxi_led_probe()1690 - start
[    2.032360] sunxi_get_str_of_property()1549 - failed to get the string of propname led_regulator!
[    2.033551] sunxi_led_probe()1782 - finish
[    2.033842] hidraw: raw HID events driver (C) Jiri Kosina
[    2.033993] usbcore: registered new interface driver usbhid
[    2.033995] usbhid: USB HID core driver
[    2.035881] sunxi-mmc sdc1: sdc set ios:clk 400000Hz bm PP pm ON vdd 21 width 1 timing LEGACY(SDR12) dt B
[    2.038377] sunxi-mmc sdc1: sdc set ios:clk 400000Hz bm PP pm ON vdd 21 width 1 timing LEGACY(SDR12) dt B
[    2.040425] sunxi-daudio daudio1: regulator missing or invalid
[    2.040707] sunxi-daudio daudio2: regulator missing or invalid
[    2.041239] rpmsg_hifi 3003000.msgbox0.sunxi,dsp0.0.-1: id:sunxi,dsp0 new channel: 0x0 -> 0xffffffff!
[    2.041970] sunxi-mmc sdc1: smc 1 p1 err, cmd 8, RTO !!
[    2.042338] sunxi-mmc sdc1: card claims to support voltages below defined range
[    2.045932] rpmsg_hifi 3003000.msgbox0.sunxi,dsp0.0.-1: rpmsg hifi[0] client driver is probed
[    2.046035] rpmsg_hifi 3008000.msgbox1.sunxi,dsp1.0.-1: id:sunxi,dsp1 new channel: 0x0 -> 0xffffffff!
[    2.050192] rpmsg_hifi 3008000.msgbox1.sunxi,dsp1.0.-1: rpmsg hifi[1] client driver is probed
[    2.053145] sunxi-mmc sdc1: sdc set ios:clk 400000Hz bm PP pm ON vdd 21 width 1 timing SD-HS(SDR25) dt B
[    2.053262] sunxi-mmc sdc1: sdc set ios:clk 50000000Hz bm PP pm ON vdd 21 width 1 timing SD-HS(SDR25) dt B
[    2.053412] sunxi-mmc sdc1: sdc set ios:clk 50000000Hz bm PP pm ON vdd 21 width 4 timing SD-HS(SDR25) dt B
[    2.054188] mmc1: new high speed SDIO card at address 0001
[    2.054781] RTW: == SDIO Card Info ==
[    2.054786] RTW:   card: ffffffc008abc000
[    2.054789] RTW:   clock: 50000000 Hz
[    2.054797] RTW:   timing spec: sd high-speed
[    2.054800] RTW:   sd3_bus_mode: FALSE
[    2.054803] RTW:   func num: 1
[    2.054807] RTW:   func1: ffffffc008b17000 (*)
[    2.054809] RTW: ================
[    2.057700] random: fast init done
[    2.067885] sunxi-internal-cpudai cpudai: dmaengine alloc coherent phy_addr:0x4a0a0000
[    2.068035] sunxi-internal-cpudai cpudai: dmaengine alloc coherent phy_addr:0x4a0c0000
[    2.068042] sunxi-internal-cpudai cpudai: sunxi_hifi_cpudai_probe start.
[    2.079756] RTW: HW EFUSE
[    2.079796] RTW: 0x000: 29 81 00 7C  E1 88 07 00  A0 04 EC 35  12 C0 A3 D8  
[    2.079833] RTW: 0x010: 27 26 25 26  26 26 28 28  27 27 27 01  FF FF FF FF  
[    2.079871] RTW: 0x020: FF FF FF FF  FF FF FF FF  FF FF FF FF  FF FF FF FF  
[    2.079909] RTW: 0x030: FF FF FF FF  FF FF FF FF  FF FF FF FF  FF FF FF FF  
[    2.079946] RTW: 0x040: FF FF FF FF  FF FF FF FF  FF FF FF FF  FF FF FF FF  
[    2.079984] RTW: 0x050: FF FF FF FF  FF FF FF FF  FF FF FF FF  FF FF FF FF  
[    2.080021] RTW: 0x060: FF FF FF FF  FF FF FF FF  FF FF FF FF  FF FF FF FF  
[    2.080059] RTW: 0x070: FF FF FF FF  FF FF FF FF  FF FF FF FF  FF FF FF FF  
[    2.080096] RTW: 0x080: FF FF FF FF  FF FF FF FF  FF FF FF FF  FF FF FF FF  
[    2.080134] RTW: 0x090: FF FF FF FF  FF FF FF FF  FF FF FF FF  FF FF FF FF  
[    2.080171] RTW: 0x0A0: FF FF FF FF  FF FF FF FF  FF FF FF FF  FF FF FF FF  
[    2.080209] RTW: 0x0B0: FF FF FF FF  FF FF FF FF  20 32 1C 00  00 00 FF FF  
[    2.080246] RTW: 0x0C0: FF 29 20 11  00 00 00 FF  00 FF 11 FF  FF FF FF FF  
[    2.080284] RTW: 0x0D0: 3E 10 01 12  23 FF FF FF  20 04 4C 02  23 D7 21 02  
[    2.080321] RTW: 0x0E0: 0C 00 22 04  00 08 00 32  FF 21 02 0C  00 22 2A 01  
[    2.080359] RTW: 0x0F0: 01 00 00 00  00 00 00 00  00 00 00 00  02 00 FF FF  
[    2.080396] RTW: 0x100: 00 00 00 00  00 00 00 00  00 00 00 00  00 00 00 00  
[    2.080434] RTW: 0x110: 00 EB 00 6E  01 00 00 00  00 FF 38 01  46 2E 7E 98  
[    2.080471] RTW: 0x120: FF FF FF FF  FF FF FF FF  FF FF FF FF  FF FF FF FF  
[    2.080508] RTW: 0x130: FF FF FF FF  FF FF FF FF  FF FF FF FF  FF FF FF FF  
[    2.080546] RTW: 0x140: FF FF FF FF  FF FF FF FF  FF FF FF FF  FF FF FF FF  
[    2.080583] RTW: 0x150: FF FF FF FF  FF FF FF FF  FF FF FF FF  FF FF FF FF  
[    2.080621] RTW: 0x160: FF FF FF FF  FF FF FF FF  FF FF FF FF  FF FF FF FF  
[    2.080658] RTW: 0x170: FF FF FF FF  FF FF FF FF  FF FF FF FF  FF FF FF FF  
[    2.080696] RTW: 0x180: FF FF FF FF  FF FF FF FF  FF FF FF FF  FF FF FF FF  
[    2.080733] RTW: 0x190: FF FF FF FF  FF FF FF FF  FF FF FF FF  FF FF FF FF  
[    2.080771] RTW: 0x1A0: FF FF FF FF  FF FF FF FF  FF FF FF FF  FF FF FF FF  
[    2.080809] RTW: 0x1B0: FF FF FF FF  FF FF FF FF  FF FF FF FF  FF FF FF FF  
[    2.080846] RTW: 0x1C0: FF FF FF FF  FF FF FF FF  FF FF FF FF  FF FF FF FF  
[    2.080884] RTW: 0x1D0: FF FF FF FF  FF FF FF FF  FF FF FF FF  FF FF FF FF  
[    2.080921] RTW: 0x1E0: FF FF FF FF  FF FF FF FF  FF FF FF FF  FF FF FF FF  
[    2.080959] RTW: 0x1F0: FF FF FF FF  FF FF FF FF  FF FF FF FF  FF FF FF FF  
[    2.081035] RTW: hal_com_config_channel_plan chplan:0x20
[    2.103083] sunxi-internal-cpudai cpudai: sunxi_hifi_cpudai_probe stop.
[    2.103092] sunxi-codec-machine sndcodec: sunxi_hifi_sndcodec_init
[    2.103821] sunxi-codec-machine sndcodec: sunxi-hifi-codec <-> cpudai mapping ok
[    2.105482] sunxi-rpaf-dsp sunxi_rpaf_dsp0: register device finished!
[    2.105489] sunxi-rpaf-dsp sunxi_rpaf_dsp0: [rpaf_dsp0] probe finished!
[    2.105720] sunxi-rpaf-dsp sunxi_rpaf_dsp1: register device finished!
[    2.105726] sunxi-rpaf-dsp sunxi_rpaf_dsp1: [rpaf_dsp1] probe finished!
[    2.106118] Netfilter messages via NETLINK v0.30.
[    2.106376] nf_conntrack version 0.5.0 (2048 buckets, 8192 max)
[    2.106524] ctnetlink v0.93: registering with nfnetlink.
[    2.108721] ip_tables: (C) 2000-2006 Netfilter Core Team
[    2.109394] NET: Registered protocol family 10
[    2.124031] NET: Registered protocol family 17
[    2.125000] Bluetooth: RFCOMM TTY layer initialized
[    2.125013] Bluetooth: RFCOMM socket layer initialized
[    2.125038] Bluetooth: RFCOMM ver 1.11
[    2.125050] 8021q: 802.1Q VLAN Support v1.8
[    2.157678] get usb_detect_mode is fail, 22
[    2.174774] sunxi-rtc rtc: setting system clock to 2021-06-01 09:12:57 UTC (1622538777)
[    2.176220] snddaudio snddaudio1: codec: snd-soc-dummy, codec_dai: snd-soc-dummy-dai.
[    2.176906] snddaudio snddaudio1: snd-soc-dummy-dai <-> daudio1 mapping ok
[    2.184439] ALSA device list:
[    2.184443]   #0: audiocodec
[    2.184446]   #1: snddaudio1
[    2.339644] RTW: [RF_PATH] ver_id.RF_TYPE:RF_1T1R
[    2.339650] RTW: [RF_PATH] HALSPEC's rf_reg_trx_path_bmp:0x11, rf_reg_path_avail_num:1, max_tx_cnt:1
[    2.339654] RTW: [RF_PATH] PG's trx_path_bmp:0x00, max_tx_cnt:0
[    2.339658] RTW: [RF_PATH] Registry's trx_path_bmp:0x00, tx_path_lmt:0, rx_path_lmt:0
[    2.339662] RTW: [RF_PATH] HALDATA's trx_path_bmp:0x11, max_tx_cnt:1
[    2.339666] RTW: [RF_PATH] HALDATA's rf_type:RF_1T1R, NumTotalRFPath:1
[    2.339670] RTW: [TRX_Nss] HALSPEC - tx_nss:1, rx_nss:1
[    2.339674] RTW: [TRX_Nss] Registry - tx_nss:0, rx_nss:0
[    2.339677] RTW: [TRX_Nss] HALDATA - tx_nss:1, rx_nss:1
[    2.340694] RTW: rtw_regsty_chk_target_tx_power_valid return _FALSE for band:0, path:0, rs:0, t:-1
[    2.342307] RTW: rtw_ndev_init(wlan0) if1 mac_addr=38:01:46:2e:7e:98
[    2.344470] RTW: rtw_ndev_init(wlan1) if2 mac_addr=3a:01:46:2e:7e:98
[    2.796007] Waiting for root device /dev/mmcblk0p7...
[    2.802773] sunxi-mmc sdc0: sdc set ios:clk 400000Hz bm PP pm ON vdd 21 width 1 timing LEGACY(SDR12) dt B
[    2.864615] mmc0: host does not support reading read-only switch, assuming write-enable
[    2.876285] sunxi-mmc sdc0: sdc set ios:clk 400000Hz bm PP pm ON vdd 21 width 1 timing SD-HS(SDR25) dt B
[    2.887080] sunxi-mmc sdc0: sdc set ios:clk 50000000Hz bm PP pm ON vdd 21 width 1 timing SD-HS(SDR25) dt B
[    2.898190] sunxi-mmc sdc0: sdc set ios:clk 50000000Hz bm PP pm ON vdd 21 width 4 timing SD-HS(SDR25) dt B
[    2.909090] mmc0: new high speed SDHC card at address 0002
[    2.919969] mmcblk0: mmc0:0002 SD8GB 7.34 GiB 
[    2.927932]  mmcblk0: p1 p2 p3 p4 p5 p6 p7 p8
[    3.016327] EXT4-fs (mmcblk0p7): couldn't mount as ext3 due to feature incompatibilities
[    3.026063] EXT4-fs (mmcblk0p7): couldn't mount as ext2 due to feature incompatibilities
[    3.039501] EXT4-fs (mmcblk0p7): mounted filesystem without journal. Opts: (null)
[    3.047958] VFS: Mounted root (ext4 filesystem) readonly on device 179:7.
[    3.057072] devtmpfs: mounted
[    3.060764] Freeing unused kernel memory: 448K
[    3.228697] init: Console is alive
[    3.232775] init: - watchdog -
[    3.236297] init: - preinit -
[    3.557651] mount_root: mounting /dev/root
[    3.562787] EXT4-fs (mmcblk0p7): re-mounted. Opts: (null)
[    3.569045] mount_root: loading kmods from internal overlay
[    3.655835] block: attempting to load /etc/config/fstab
[    3.664076] block: extroot: device not present, retrying in 5 seconds
[    3.860658] random: procd: uninitialized urandom read (4 bytes read)
[    4.211583] 
[    4.211583] insmod_host_driver
[    4.211583] 
[    4.218358] [ehci0-controller]: sunxi_usb_enable_ehci
[    4.224035] [sunxi-ehci0]: probe, pdev->name: 4101000.ehci0-controller, sunxi_ehci: 0xffffff8008aebda8, 0x:ffffff8008074000, irq_no:f9
[    4.237629] 4101000.ehci0-controller supply drvvbus not found, using dummy regulator
[    4.246449] sunxi-ehci 4101000.ehci0-controller: SW USB2.0 'Enhanced' Host Controller (EHCI) Driver
[    4.256628] sunxi-ehci 4101000.ehci0-controller: new USB bus registered, assigned bus number 2
[    4.266768] sunxi-ehci 4101000.ehci0-controller: irq 249, io mem 0xffffff80080873fc
[    4.291571] sunxi-ehci 4101000.ehci0-controller: USB 0.0 started, EHCI 1.00
[    4.299419] sunxi-ehci 4101000.ehci0-controller: ehci_irq: highspeed device connect
[    4.308205] usb usb2: New USB device found, idVendor=1d6b, idProduct=0002
[    4.315832] usb usb2: New USB device strings: Mfr=3, Product=2, SerialNumber=1
[    4.323942] usb usb2: Product: SW USB2.0 'Enhanced' Host Controller (EHCI) Driver
[    4.332343] usb usb2: Manufacturer: Linux 4.9.191 ehci_hcd
[    4.338504] usb usb2: SerialNumber: sunxi-ehci
[    4.344507] hub 2-0:1.0: USB hub found
[    4.348772] hub 2-0:1.0: 1 port detected
[    4.353600] [ohci0-controller]: sunxi_usb_enable_ohci
[    4.359280] [sunxi-ohci0]: probe, pdev->name: 4101000.ohci0-controller, sunxi_ohci: 0xffffff8008aec118
[    4.369753] 4101000.ohci0-controller supply drvvbus not found, using dummy regulator
[    4.378557] sunxi-ohci 4101000.ohci0-controller: SW USB2.0 'Open' Host Controller (OHCI) Driver
[    4.388351] sunxi-ohci 4101000.ohci0-controller: new USB bus registered, assigned bus number 3
[    4.398094] sunxi-ohci 4101000.ohci0-controller: irq 250, io mem 0xffffff8008153678
[    4.467747] usb usb3: New USB device found, idVendor=1d6b, idProduct=0001
[    4.475385] usb usb3: New USB device strings: Mfr=3, Product=2, SerialNumber=1
[    4.483494] usb usb3: Product: SW USB2.0 'Open' Host Controller (OHCI) Driver
[    4.491505] usb usb3: Manufacturer: Linux 4.9.191 ohci_hcd
[    4.497667] usb usb3: SerialNumber: sunxi-ohci
[    4.503809] hub 3-0:1.0: USB hub found
[    4.508077] hub 3-0:1.0: 1 port detected
[    4.679577] usb 2-1: new high-speed USB device number 2 using sunxi-ehci
[    4.860833] usb 2-1: New USB device found, idVendor=0c45, idProduct=6366
[    4.868402] usb 2-1: New USB device strings: Mfr=2, Product=1, SerialNumber=3
[    4.876419] usb 2-1: Product: USB 2.0 Camera
[    4.881224] usb 2-1: Manufacturer: Sonix Technology Co., Ltd.
[    4.887684] usb 2-1: SerialNumber: SN0001
[    4.894357] uvcvideo: Found UVC 1.00 device USB 2.0 Camera (0c45:6366)
[    4.910856] input: USB 2.0 Camera as /devices/platform/soc/4101000.ehci0-controller/usb2/2-1/2-1:1.0/input/input3
[    8.708232] block: extroot: cannot find device UDISK
[    8.720879] procd: - early -
[    8.724240] procd: - watchdog -
[    8.759890] random: procd: uninitialized urandom read (4 bytes read)
[    8.866026] procd: - watchdog -
[    8.869839] procd: - ubus -
[    8.873791] procd (1): /proc/1166/oom_adj is deprecated, please use /proc/1166/oom_score_adj instead.
[    8.878246] random: jshn: uninitialized urandom read (4 bytes read)
[    8.895271] random: ubusd: uninitialized urandom read (4 bytes read)
[    8.924394] procd: - init -
Please press Enter to activate this console.
[    9.304736] file system registered
[    9.345167] configfs-gadget 4100000.udc-controller: failed to start g1: -19
[    9.361891] fuse init (API version 7.26)
[    9.427940] Bluetooth: BNEP (Ethernet Emulation) ver 1.3
[    9.436494] Bluetooth: BNEP filters: protocol multicast
[    9.443081] Bluetooth: BNEP socket layer initialized
[    9.447859] read descriptors
[    9.447871] read strings
[    9.489668] usbcore: registered new interface driver btusb
[    9.531163] Bluetooth: HIDP (Human Interface Emulation) ver 1.2
[    9.537984] Bluetooth: HIDP socket layer initialized
[    9.673985] xt_time: kernel timezone is -0000
[    9.912317] EXT4-fs (mmcblk0p7): warning: mounting unchecked fs, running e2fsck is recommended
[    9.924209] EXT4-fs (mmcblk0p7): re-mounted. Opts: (null)
[   10.015205] FAT-fs (mmcblk0p1): Volume was not properly unmounted. Some data may be corrupt. Please run fsck.
[   10.134919] random: crng init done
[   10.138739] random: 6 urandom warning(s) missed due to ratelimiting
[   10.292105] sunxi-codec-machine sndcodec: sunxi_hifi_sndcodec_startup
[   10.303833] sunxi-codec-machine sndcodec: sunxi_hifi_sndcodec_hw_params
[   10.311319] sunxi-internal-cpudai cpudai: ======== hw_params ========
[   10.318734] sunxi-internal-cpudai cpudai: pcm_params->format:2
[   10.325482] sunxi-internal-cpudai cpudai: pcm_params->channels:2
[   10.325489] sunxi-internal-cpudai cpudai: pcm_params->rate:48000
[   10.325495] sunxi-internal-cpudai cpudai: pcm_params->period_size:1024
[   10.325500] sunxi-internal-cpudai cpudai: pcm_params->periods:4
[   10.325505] sunxi-internal-cpudai cpudai: pcm_params->pcm_frames:1024
[   10.325511] sunxi-internal-cpudai cpudai: pcm_params->buffer_size:4096
[   10.325516] sunxi-internal-cpudai cpudai: ===========================
[   10.487481] sunxi-internal-cpudai cpudai: sunxi_hifi_pcm_hw_params
[   10.521656] RTW: txpath=0x1, rxpath=0x1
[   10.530445] RTW: txpath_1ss:0x1, num:1
[   10.606861] IPv6: ADDRCONF(NETDEV_UP): wlan0: link is not ready
[   13.544017] sunxi-internal-cpudai cpudai: sunxi_hifi_pcm_hw_free
[   13.723087] sunxi-codec-machine sndcodec: sunxi_hifi_sndcodec_shutdown
[   14.880841] RTW: rtw_set_802_11_connect(wlan0)  fw_state=0x00000008
[   15.085268] RTW: start auth
[   15.125424] RTW: auth success, start assoc
[   15.172175] RTW: assoc success
[   15.176741] RTW: ============ STA [78:11:dc:5a:66:f8]  ===================
[   15.184492] RTW: mac_id : 0
[   15.187710] RTW: wireless_mode : 0x0b
[   15.191896] RTW: mimo_type : 0
[   15.195316] RTW: static smps : N
[   15.198948] RTW: bw_mode : 20MHz, ra_bw_mode : 20MHz
[   15.204527] RTW: rate_id : 3
[   15.207764] RTW: rssi : 19 (%), rssi_level : 0
[   15.212755] RTW: is_support_sgi : Y, is_vht_enable : N
[   15.218524] RTW: disable_ra : N, disable_pt : N
[   15.223612] RTW: is_noisy : N
[   15.226937] RTW: txrx_state : 0
[   15.230469] RTW: curr_tx_rate : CCK_1M (L)
[   15.235064] RTW: curr_tx_bw : 20MHz
[   15.238982] RTW: curr_retry_ratio : 0
[   15.243094] RTW: ra_mask : 0x00000000000fffff
[   15.243094] 
[   15.281202] RTW: recv eapol packet 1/4
[   15.285443] NOHZ: local_softirq_pending 08
[   15.290464] RTW: send eapol packet 2/4
[   15.314424] RTW: recv eapol packet 3/4
[   15.318661] NOHZ: local_softirq_pending 08
[   15.323468] RTW: send eapol packet 4/4
[   15.327972] RTW: set pairwise key camid:0, addr:78:11:dc:5a:66:f8, kid:0, type:AES
[   15.328151] IPv6: ADDRCONF(NETDEV_CHANGE): wlan0: link becomes ready
[   15.344395] RTW: set group key camid:1, addr:78:11:dc:5a:66:f8, kid:1, type:AES



BusyBox v1.27.2 () built-in shell (ash)

 _   .-')      ('-.            ) (`-.      
( '.( OO )_   ( OO ).-.         ( OO ).    
 ,--.   ,--.) / . --. /  ,-.-')(_/.  \_)-. 
 |   `.'   |  | \-.  \   |  |OO)\  `.'  /  
 |         |.-'-'  |  |  |  |  \ \     /\  
 |  |'.'|  | \| |_.'  |  |  |(_/  \   \ |  
 |  |   |  |  |  .-.  | ,|  |_.' .'    \_) 
 |  |   |  |  |  | |  |(_|  |   /  .'.  \  
 `--'   `--'  `--' `--'  `--'  '--'   '--' 
   __   _                                        
  / /  (_)__  __ ____ __ ------------------------
 / /__/ / _ \/ // /\ \ /  sipeed.com (Neptune)
/____/_/_//_/\_,_//_\_\  ------------------------

root@TinaLinux:/#