preface
Hello! buddy!
First of all, thank you very much for reading Haihong's article. If there are mistakes in the article, you are welcome to point out ~
Ha ha, introduce yourself
Nickname: Haihong
Label: program ape a C + + player student
Introduction: I got acquainted with programming in C language and then transferred to computer major. I was lucky to have won national and provincial awards and have been guaranteed for research. Currently learning C++/Linux (really, really hard ~)
Learning experience: solid foundation + taking more notes + typing more codes + thinking more + learning English well!
Daily sharing: WeChat official account Pro, recording life, learning bits, sharing some source code or learning materials, welcome to pay attention to
Effect display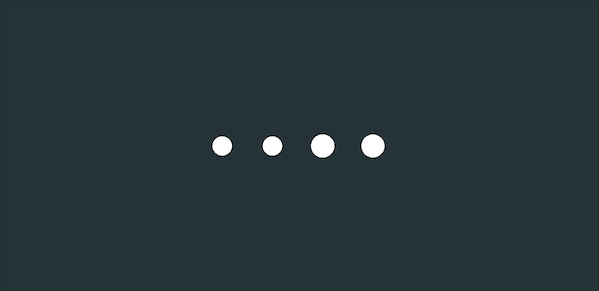 Demo code
HTML
<!DOCTYPE html>
<html lang="en">
<head>
    <meta charset="UTF-8">
    <meta http-equiv="X-UA-Compatible" content="IE=edge">
    <meta name="viewport" content="width=device-width, initial-scale=1.0">
    <link rel="stylesheet" href="style.css">
    <title>Document</title>
</head>
<body>
    <section><span></span></section>
</body>
</html>

CSS
html,body{
  margin: 0;
  height: 100%;
}
body{
  display: flex;
  justify-content: center;
  align-items: center;
  background: #263238;
}
section {
    width: 650px;
    height: 300px;
    padding: 10px;
    position: relative;
    display: flex;
    align-items: center;
    justify-content: center;
    /* The red border is only a hint */
    border: 2px solid red;
}

span{
  width : 24px;
    height: 24px;
    border-radius: 50%;
    display: inline-block;
    position: relative;
    color: white;
    /* background-color: red; */
    animation: loading 2s linear infinite;
}
@keyframes loading {
  0% {  box-shadow:   26px 0 0 -2px,  78px 0 0 -2px, 
                      -26px 0 0 -2px,  -78px 0 0 -2px
  }   
  
  25% {  box-shadow:   26px 0 0 -2px,  78px 0 0 -2px, 
                      -26px 0 0 -2px,  -78px 0 0 2px
  }    
  
  50% {  box-shadow:   26px 0 0 -2px,  78px 0 0 -2px, 
                      -26px 0 0 2px,  -78px 0 0 -2px
  }  
  75% {  box-shadow:   26px 0 0 2px,  78px 0 0 -2px, 
                      -26px 0 0 -2px,  -78px 0 0 -2px
  }  
  100% {  box-shadow:   26px 0 0 -2px,  78px 0 0 2px, 
                      -26px 0 0 -2px,  -78px 0 0 -2px
  }   
}

Detailed explanation of principle
Step 1
Using the span tag, set to
The width and height are 24px
Background color: Red

Step 2
span label rounding
border-radius: 50%;


Step 3
Add animation to span
Use box shadow as a small white ball
The key has five frames
First frame
initial position
Use box shadow to define four small white balls (the shadow of span)
Located on the left and right of the red ball
    box-shadow:   26px 0 0 -2px,  78px 0 0 -2px, 
    -26px 0 0 -2px,  -78px 0 0 -2px;

The renderings are as follows Second frame
Make the leftmost ball larger and the rest unchanged
   box-shadow:   26px 0 0 -2px,  78px 0 0 -2px, 
                      -26px 0 0 -2px,  -78px 0 0 2px;

The renderings are as follows Frame 3
Make the second small ball on the left bigger and the rest unchanged
 box-shadow:   26px 0 0 -2px,  78px 0 0 -2px, 
                      -26px 0 0 2px,  -78px 0 0 -2px;
   

The renderings are as follows Frame 4
Make the third small ball on the left bigger and keep the rest unchanged
 box-shadow:   26px 0 0 2px,  78px 0 0 -2px, 
                      -26px 0 0 -2px,  -78px 0 0 -2px
 

The renderings are as follows Frame 5
Make the fourth small ball on the left bigger and keep the rest unchanged
   box-shadow:   26px 0 0 -2px,  78px 0 0 2px, 
    -26px 0 0 -2px,  -78px 0 0 -2px;

The renderings are as follows Finally, comment out the background color of span
Summary description
Code is
  animation: loading 2s linear infinite; 

@keyframes loading {
  0% {  box-shadow:   26px 0 0 -2px,  78px 0 0 -2px, 
                      -26px 0 0 -2px,  -78px 0 0 -2px
  }   
  
  25% {  box-shadow:   26px 0 0 -2px,  78px 0 0 -2px, 
                      -26px 0 0 -2px,  -78px 0 0 2px
  }    
  
  50% {  box-shadow:   26px 0 0 -2px,  78px 0 0 -2px, 
                      -26px 0 0 2px,  -78px 0 0 -2px
  }  
  75% {  box-shadow:   26px 0 0 2px,  78px 0 0 -2px, 
                      -26px 0 0 -2px,  -78px 0 0 -2px
  }  
  100% {  box-shadow:   26px 0 0 -2px,  78px 0 0 2px, 
                      -26px 0 0 -2px,  -78px 0 0 -2px
  }   
}

The renderings are as follows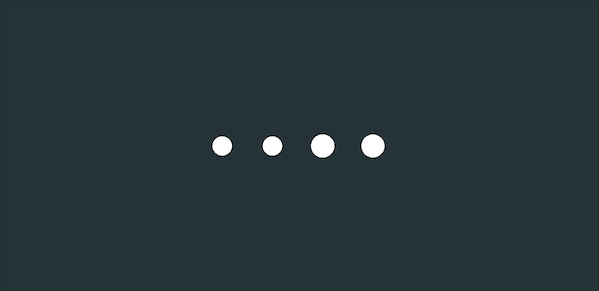 epilogue
Learning source:
https://codepen.io/bhadupranjal/pen/vYLZYqQ
The article is only used as a learning note to record a process from 0 to 1. I hope it will help you. If you have any mistakes, you are welcome to correct them
I'm Hai Hongyu ˊ ᵕ ˋ) If you think it's OK, please give it a compliment
Writing is not easy, "like" + "collect" + "forward"
Thank you for your support ❤️